Also known as 'If statements', logical expressions are at the heart of the most intuitive surveys and the smartest reports. In this tutorial you'll learn how to build logical expressions so you can:
Create advanced routing and skip conditions
Re-categorise and transform data with derived variables
Set conditions for entire reports or specific report sections
Build analysis filters to isolate specific participant groups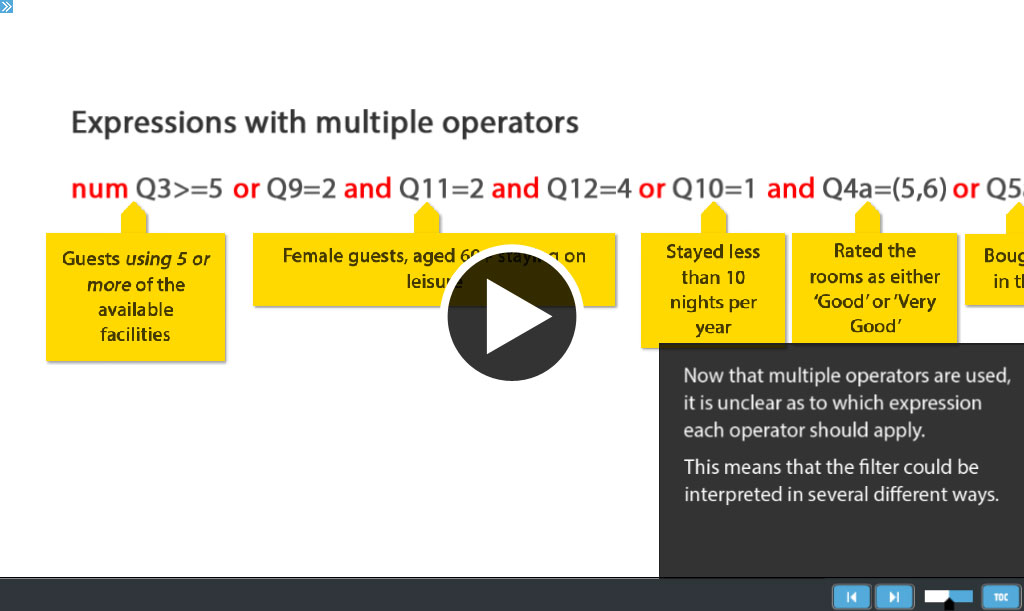 Use the table of contents to skip straight to the section you need. To complete the whole tutorial would take approx 25 minutes.
Did you find this tutorial useful? Take this short survey and let us know.
Other Interactive tutorials you might be interested in:
Browse all interactive tutorials →
Having difficulty viewing this tutorial?
Our tutorials are produced in HTML5. If you are using an older, non-HTML5 browser, try viewing this tutorial in Flash.
Couldn't find what you were looking for?
We're working to add the resources you need to the Support Hub. If you think there's a topic we should cover, please let us know by completing this form.