Get better feedback
Snap XMP is the online survey platform used by market researchers, governments, big businesses, small businesses, and everything in between to facilitate greater insights. With powerful features, certified data security, and unrivalled customer support, we hope you'll see the value of Snap XMP during your free trial.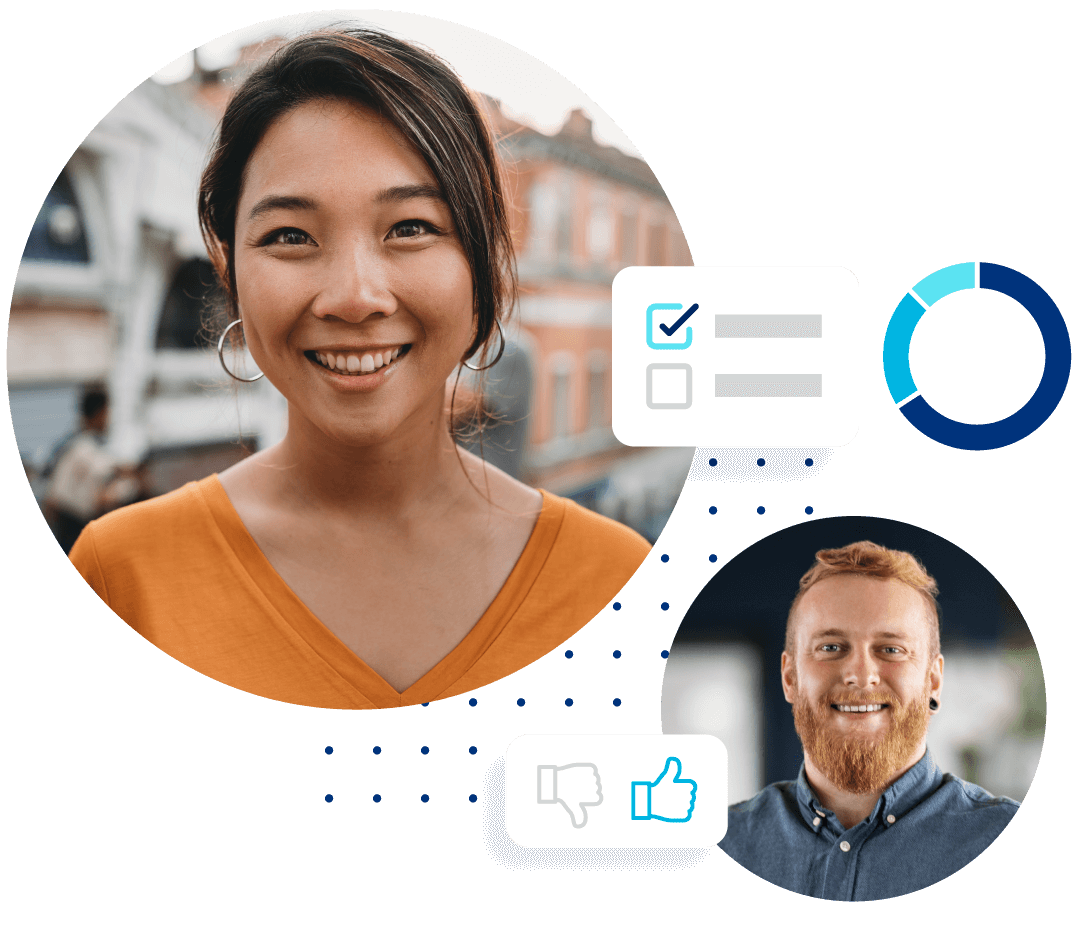 Free trial includes
Full functionality
Quick templates to get you started
Engaging survey designs
Built-in reporting that helps you understand your data
Unlimited surveys
Unlimited questions in each survey
30 day access to the full platform
100 units
No credit card required
If you choose to upgrade after your 30 day trial, we have multiple plans to suit every need. From Individual and Small Team plans, to Corporate and Enterprise – Snap XMP offers the perfect solution at all levels. See pricing plans
Surveys for every audience
Whether you want to use just written text, add in imagery like emojis, or use sound-based questions, Snap XMP surveys offer flexibility in styles and keep your participants engaged.
Surveys in any language
Design, distribute and analyze surveys in any language including right to left and character-based languages. Export for easy translation.
Design and branding
Complete flexibility to customize your survey and create reassuringly professional surveys that perfectly complement your organization's brand.
Two-way database links
Personalize surveys and automatically update records. Respondent information held in your database can be inserted anywhere in the survey and can also be used to pre-answer questions.
Multi-format surveys
Distribute surveys online, on paper, and on kiosks or mobile devices. Apply a unique look and feel to each version and bring all your results together for analysis.
Offline data collection
Collect data out in the field with Snap Offline Interviewer. Engage with participants and enjoy uninterrupted interviewing on mobile devices including smartphones, tablets and kiosks.
Paper survey scanning
Ease the burden of the data entry process with Snap Scanning Edition. Easily scan unlimited paper surveys in varying orientations and sizes.
Smart Reporting
Batch produce multiple report variations, with all the analyses and commentary updated in real time and configured uniquely to each reader, e.g. an individual, region, department or team.
Summary report
Deliver key insights to your organization or clients with Snap Surveys instant summary reports. Pre-built for every survey with results updated in real time.
Analysis tools
Refine, simplify and recategorize your data. Snap Surveys analysis tools help you make sense of survey responses; use our range of analysis styles to present results clearly.
ISO 27001
We're proud to be ISO 27001 certified – the highest possible standard for information security.
US based servers
Rest assured that all your data is stored on US based servers that are complaint with data protection and privacy laws.
Our software, your server
As an alternative to our online subscription service, you can also run Snap Online on your own server – it's cost effective and gives you complete control.
One-to-one tech support
Get technical help with your survey from our team of friendly experts. We'll go the extra mile to help get your survey project back on track.
Training
We have a range of training courses covering every aspect of the survey process, including consultancy style – tailored to your needs, and using your own survey.
Webinars and videos
Our video library will help you make the most of Snap Surveys. Keep up-to-date with new features and get expert guidance on subjects such as effective survey design and analysis.
Try Snap XMP for free today
Ready to see what our survey platform can do? Click below to get started.
(No credit card required)