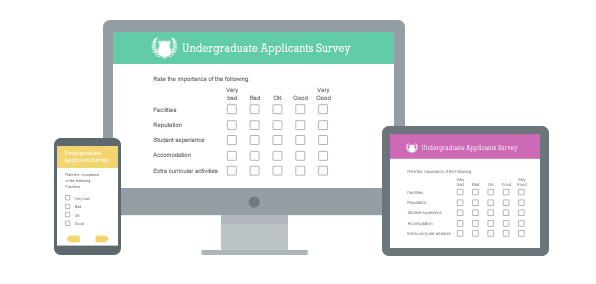 Create engaging online surveys for PCs, tablets and smartphones
Snap's dynamic and interactive questions deliver a unique and personalised survey experience every time, getting participants' attention and keeping it.
Quickly create professional, branded surveys
Build surveys that are fully accessible and easy to complete on any device. And, our quick start templates are fully customizable, so if you want more control over the look and feel of your survey, you've got it.
Call now: 603 610 8700 or Get Your Free Demo →
Get creative with survey questions
Keeping participants' attention is not always easy, especially when so many surveys are competing for their time. Add visual and interactive questions to make your surveys engaging and keep participants clicking.

Unique survey experiences every time
Tailor the survey experience to each participant and make your surveys more enjoyable to complete – with the added bonus of a higher response rate and more accurate data in return.
Target specific survey participants
Snap offers a range of ways to help you find and interview the right survey participants.

Maximize each interview
Streamline your data management, personalize the survey process, and collect extra information from a completed survey in addition to each participant reply.
Respond instantly to survey feedback
Automate your response to survey feedback and manage data effectively. Snap works hard to make sure you keep on top of managing survey feedback.

Need to run your survey project offline?
No problem, Snap is more than just an online survey tool. You can run your online survey alongside a printed version as well as interviewing offline on mobile devices and kiosks, and bring all your results together for analysis and reporting.
Offline mobile interviewing
Capture better feedback at the point of experience. Snap Offline Interviewer automatically synchronizes data and surveys when a connection is available, so you can carry on interviewing anytime, anywhere.
Find out more about Snap Offline Interviewer ›
Paper surveys with Scanning
Quickly and easily produce a version of your survey ready for any paper size or layout. Survey replies can either be scanned or manually keyed, with accuracy guaranteed using our dedicated data entry system.