You can create a bank of questions in Snap which can be saved and used in more than one survey. These are known as SurveyPaks. Snap 10 comes with a single SurveyPak which combines frequently used questions and their translations. You can use these questions in any survey. You can also create SurveyPaks containing questions specific to your organisation, which you can then re-use.
This worksheet shows you how to use a question from Snap's reference SurveyPak and how to create a new SurveyPak and store your own questions in it.
Background
SurveyPaks are made up of notes and questions (known as variables) grouped into orange books called topics. You can also group them into sections or questionnaires. You can have multiple languages in a SurveyPak, and have different language versions of a question.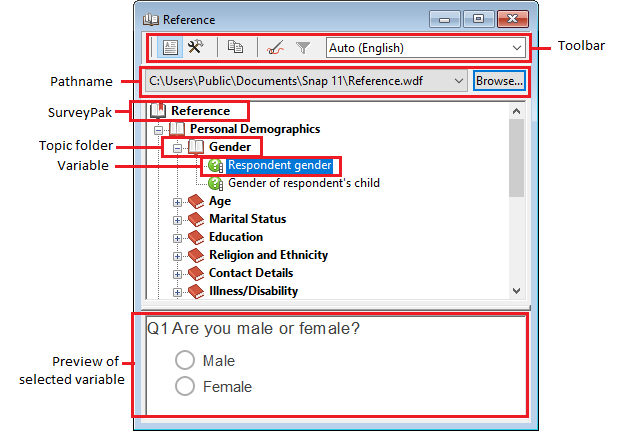 SurveyPaks are viewed in the Reference window and are stored in a .wdf file.
Snap supplies a SurveyPak containing demographic questions in eight languages. These are in three areas:
About You (describes the respondent)
Your Household (about the respondent's house and neighbourhood)
Your Employment (about the respondent's employment history)
You can add the questions individually to a survey, add a whole section (including title and instructions) or create a survey that contains all the questions in a section.
You can create your own SurveyPak by adding questions or sections from an existing survey. You can also import surveys into a SurveyPak. When you open them, the Survey constructor starts.
Summary of steps
This worksheet describes how to:
Conclusion
This worksheet has described how to use a question in an existing SurveyPak in your questionnaire. It then described how to create your own SurveyPak and add questions to it. It explains how to create multi-language SurveyPaks.
For more information about creating SurveyPaks, see Using SurveyPaks to store and re-use variables and surveys.
For more information about using SurveyPaks see Putting questions from the Reference window into a survey.
For more information about running a survey in multiple languages, see the worksheet Creating a new language edition of your questionnaire.
If there is a topic you would like a worksheet on, email to snapideas@snapsurveys.com.