Create dynamic and interactive surveys and share results online with your clients and colleagues.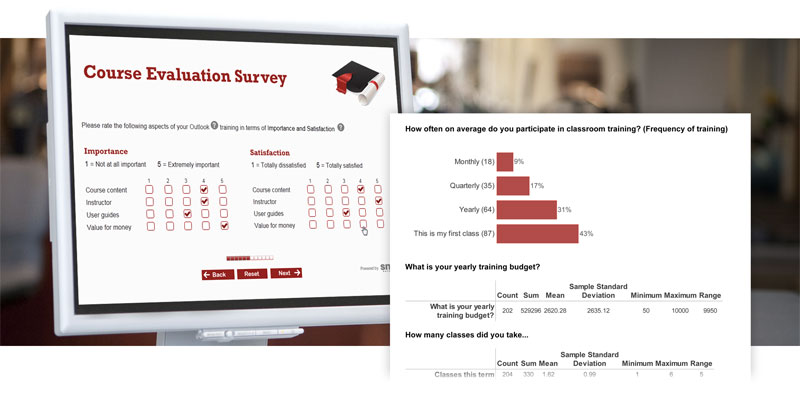 For you
Quickly create fully branded surveys in any language.
Instant access to a respondent panel of up to 7 million worldwide members.
Deploy surveys using a custom URL and 'email from' address.
Schedule automatic and personalized email invites and reminders.
Manage participant details online.
Create grouped questionnaires – perfect for course evaluations or 360 feedback.
Apply quotas to control how many respondents within particular groups are interviewed.
Allocate individual logins for added security.
Feed information from an external database into the questionnaire.
Automatically export replies to keep your database up to date.
Set up automatic email alerts, triggered by a specific reply or replies.
Record information about each reply, such as time taken to complete the survey.
Create and view real-time tables, charts and comment lists.
Filter analyses and reports to see how different groups answer specific questions.
Generate a full overview of your results with an automated summary report.
Create associate log-ins for clients or colleagues to see live reports. You specify which survey results they can view.
Share surveys via social media.
Export results to Excel.
For participants
Answer surveys using interactive questions.
View a dynamic questionnaire that feels tailor-made.
View multimedia content.
Print or Save survey replies at any point, with the option to revisit at a later time.
Attach files such as a resume or a photo.
Participants can exclude themselves from further reminders.
For clients and colleagues
Log in to monitor the total number of respondents.
View automated survey reports.
View automated Smart Reports created by the researcher.
View real-time tables, charts and lists.
Create analyses on the fly and filter results to see how different groups answer certain questions.
Export results to Excel.