Need a customized course evaluation solution for your educational institution? See what Snap Surveys has to offer.
Time sure does fly by. The summer is winding down and the new school year is upon us. Get a head start on developing your course evaluations.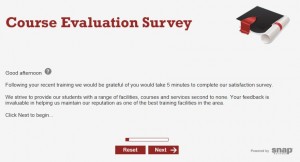 Are you looking for a more streamlined course evaluation solution? With Snap Survey Software, educational institutions can easily administer and collect data directly from students, generate analysis, and create simple or advanced reports that can easily display areas of strength or areas that need continued improvement.
With multi-mode capability, course evaluations can be administered in the format that best suites the needs of your institution – online, mobile, paper (with scanning capability), or on a kiosk. Although traditionally done on paper, online course evaluations can easily be emailed to students, presented right in the classroom on each students' computer or tablet, or directly to their Smartphone or other mobile device. Whatever mode an institution prefers, Snap Survey Software can deliver.  Continue reading →