Ignore Mandatory Questions for Online Survey Preview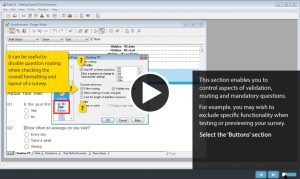 Mandatory questions are a useful feature of online surveys, but did you know they can be disabled to make testing your online survey easier? You'll find the option in the Interview section of Questionnaire Properties. Just uncheck it for preview, and turn back on for your live survey. Thanks to Ed in our UK research team for this great tip!
You can find out more about Questionnaire Properties settings, including how to customize navigation buttons, view stats about individual survey completions, and send automated email alerts in the Questionnaire Properties interactive tutorial.