Access our helpful new worksheet to learn how you can show survey questions using clickable images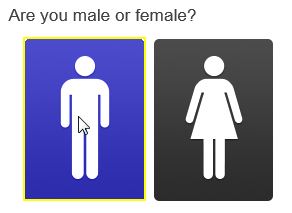 Engage respondents and increase response rates by using clickable images instead of the usual check boxes.
You can make your questions more appealing by using interactive designs. Snap Survey Software allows you to present coded questions as clickable images.
Our new worksheet shows you the steps to transform a Gender question by using a Map Control. It also shows how to make it a question that respondents must answer, and resize or remove a Map Control for small screens.
The steps in the worksheet include:
Adding a gender question to your survey
Defining the Map Control
Making the Map Control a 'must answer' question
Saving your Map Control to use in future surveys
Change the Map Control for different screen sizes
Find out more about clickable images and question styles in the new Snap Support Hub.