It was April of 1981 when Peter Wills and Dr. Steve Jenkins officially launched Snap Surveys (formerly known as Mercator Corp). What started 40 years ago as a four person team serving survey software needs of local UK organizations, has now grown into an international, industry-leading provider of survey and experience measurement platform, feedback management solutions, and research services to clients across the globe.
To celebrate this milestone, Peter Wills (Founder & Chairman) and Dr. Steve Jenkins (Founder & Managing Director) took a moment to reflect on the last 40 years – how it all started, the many accomplishments, and the exciting future of Snap Surveys.
Below is the interview transcript between Peter Wills and Steve Jenkins, interviewed by Susan DeFranzo, Snap Surveys' US Marketing Manager.
In 1981, the year you started Snap Surveys, the British Royal family welcomed a new princess, and MS-DOS was released by Microsoft. What else do you remember about your first year in business?
Peter Wills: 1981 was certainly memorable for us as it was the year that we installed Snap Surveys software at BBC World Service, a prestigious customer who, incidentally, is still using Snap, 40 years later.
We had previously developed a prototype of Snap Surveys software for a research conference in 1980 and were lucky to be approached at the conference by one of the lead researchers from the BBC, who was keen for us to supply both the software together with a desktop computer.
It took several months to fully develop the product, but by mid 1981, we were ready to launch. The installation went well and, really, we never looked back. Within 5 years, we were up to 500 organizations using our software.
1981 was also memorable as it was the year that IBM launched their own Personal Computer, bringing a level of authority to a market with such a plethora of capabilities and operating systems. Microsoft provided the MSDOS operating system and most of our development was carried out in Microsoft Basic. Within 4 years, Microsoft launched their first version of Windows, and 35 years later, it is still the dominant system for PC computers.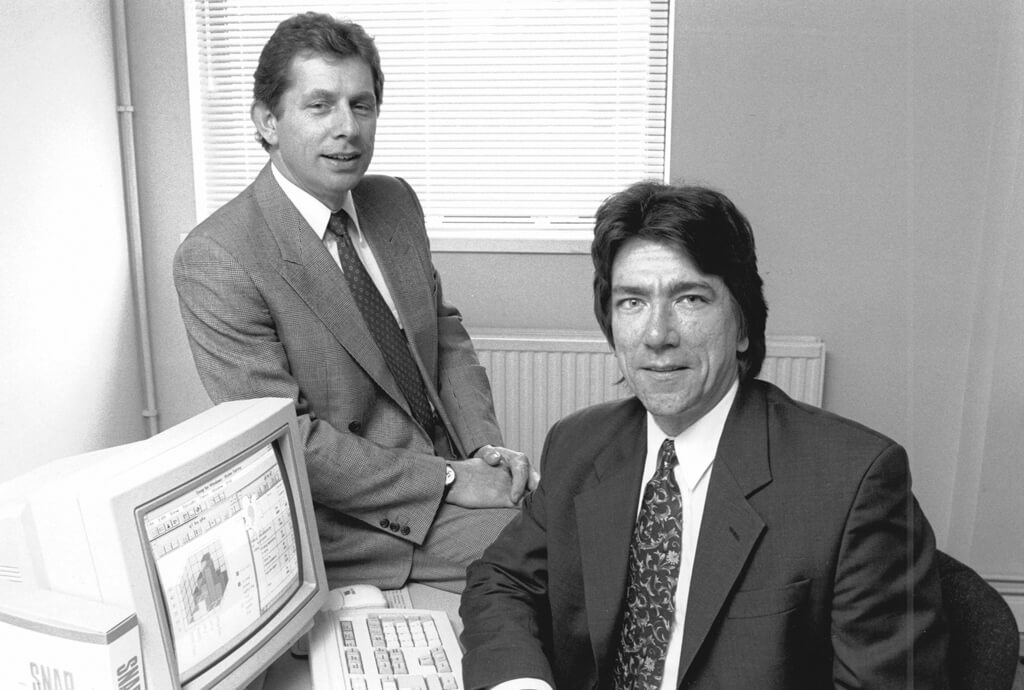 What made the two of you want to partner together in this business venture?
Steve Jenkins: We had worked together for a few years at a previous company. Pete had left with two other colleagues to start up a new operation focusing on transportation survey work. I stayed in touch in case any programming work came up. Within a few months, work started coming in for me. I started working evenings for the team and working during the day at my usual day job. That started to get quite difficult when I had to visit customers as I either had to take a day off or arrange visits for the evenings. So, within 4 months, I had left my original job and joined Pete with his colleagues.
What do you see as the company's biggest accomplishments since your start in 1981?
Peter Wills: In the early years, we developed software for a wide range of business sectors apart from the research sector – auction houses, marine stability, animal feed formulation, time and motion study, and accounting systems to name but a few. It was quite a brave decision after 10 years to cease development of all of these and focus entirely on Snap software. It was definitely the right decision, as both Steve and I have come from a research background, and are comfortable in all areas of its development.
It was in the mid 1980's that we decided to investigate markets beyond the UK. Our first step was to appoint a US based distributor in the form of Interactive Market Systems IMS in New York.
As an industry leader in survey software and feedback management solutions, what has set you apart from the competition all these years?
Steve Jenkins: Initially, we were one of very few professionally designed systems to run on what were then called microcomputers. As machines got bigger, the software was upscaled until, a few years after the availability of 16 bit desktop computers, systems previously running on minicomputers were starting to be ported down to desktops.
Since then, of course, the Internet has come into being. And, at about the same time, computers were small enough to be carried by hand, and thus used as mobile interviewing devices. Snap Surveys software has evolved throughout and is now one of the very few systems to offer online, offline, and true paper questionnaires to be produced and analyzed.
In 1993, you expanded operations and opened the Snap Surveys U.S. office. Tell us about your decision to expand and what made you choose New England?
Peter Wills: The early agreement that we had along with Leon Liebman, the CEO at IMS in New York, worked moderately well. Though, as a company they were very mainframe-centric and we were perhaps a little too early for them. It was then that we decided that perhaps we should open our own overseas office.
For a UK company, the first logical step was to consider a base in Europe, but we encountered too many early setbacks, primarily with language differences, and certain European countries banned the sale of software unless every aspect of it was converted in their native language. This was considered to be too large a venture and consequently we decided to focus on an English speaking country.
I set out an East Coast trip to Philadelphia, New York, Washington, and Boston to explore the opportunities and very quickly realized that Boston was far more supportive on new IT ventures than any of the other three cities.
We first signed up with a specialist agency to establish a presence for Snap Surveys in the US. After a couple of successful years with the agency, we made the decision to set up our own US office, after a few years in Newburyport, Massachusetts before moving our operation to Portsmouth, New Hampshire, and have been based there ever since.
As a successful company, you know your most important assets are your employees. As you reflect on your team of Snap employees over the past 40 years, what comes to mind?
Steve Jenkins: Throughout our 40 year history I believe that we have both learnt from new employees and helped existing employees exploit their many skills. I like to think that we give employees room to explore their own interests and, wherever possible, to focus on the things they enjoy doing or that interest them. People who enjoy their work often do it better than those who do it under suffrage.
What would you say has been the most rewarding part for both of you as leaders of Snap Surveys?
Peter Wills: Most definitely the most rewarding element of Snap Surveys has been the people who work with us. So many of them have been with us for 15-20 years and it's been so great to see them all develop. We had a young Computing undergraduate who turned up looking for work while on vacation. We set him the task of writing a mobile version of Snap on a Psion Organizer. After a few such vacations jobs, he joined full time and is now our IT manager – and has just celebrated 25 years with us. Another person joined our data prep team part time, to earn sufficient cash to pay for evening classes in marketing. She's now been with us 20 years and is our Director of Sales and Marketing.
What's next for Snap Surveys?
Steve Jenkins: Plenty of plans and ideas.
Interconnectivity – combining survey / interview data with data from other sources either in Snap or external systems.
Maintain paper alongside exploiting newer technologies – not least for inclusivity: giving opportunities for everyone's voice to be heard.
The whole point of a survey is to learn something from the data collected – either something new or to confirm what was already thought. To that end, the really important phase is the last for most surveys: reporting and knowing what to look for in the data. Our concept of Survey as a Product enables for insight from complex intellectual property to be put in the hands of anyone.
My philosophy: Look at everything as an opportunity.
Peter Wills: It's interesting when you look back over 40 years and see just how literally everything has changed.
Although, in 1981, we were at the forefront of small desktop computers, we had in fact just come from an environment of working with terminals into large mainframe computers. Consequently, the move to these new desktop computers was dramatic and we had to remain 'agile' in terms of the hardware available to us.
Over the years, we've also had to remain 'agile' as to the requirements of our clients. For instance, in 1981, we were working with paper questionnaires. Today, we have to work with a range of devices from online and tablets, to smartphones and paper. In 1981, our clients were more than happy to learn new software and create their own surveys. Today, they increasingly want to have ready-made surveys that 'simply load and go'.
Technology will continue to evolve at an alarming pace and so for the foreseeable future, agility is the key word for Snap Surveys.
Join us as we focus on the next 40 years of Snap Surveys.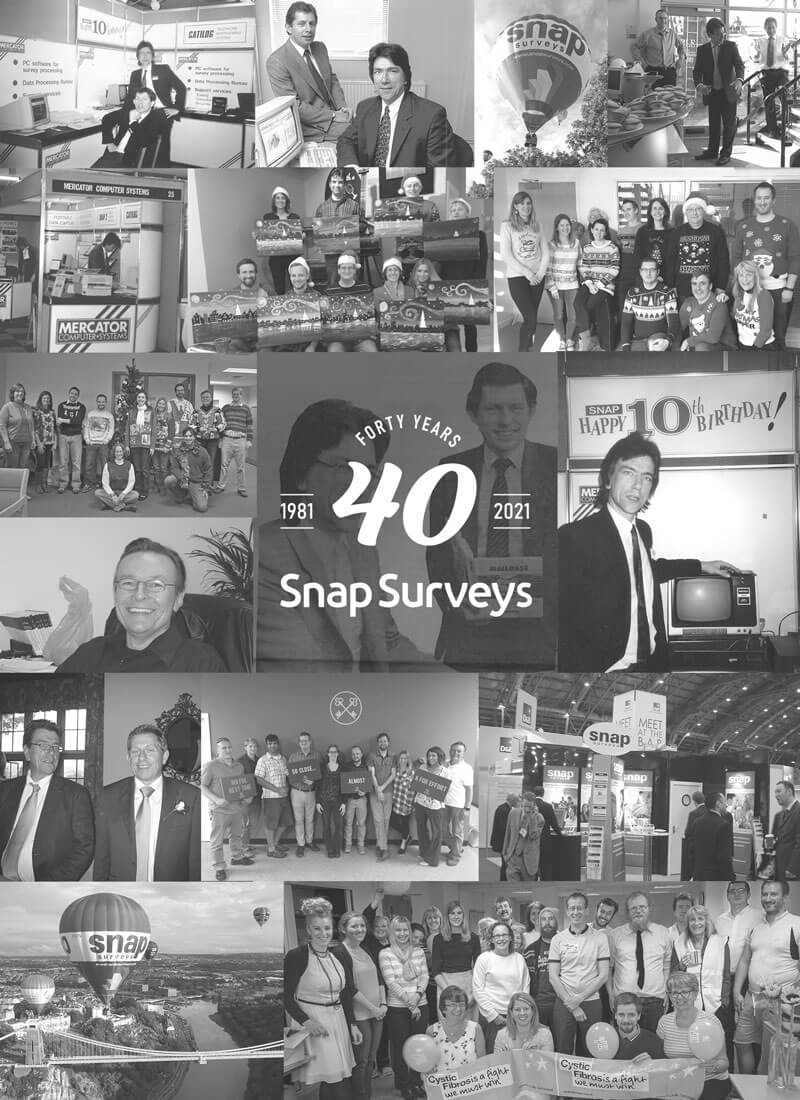 Connect with us on social to stay informed of new products, software and solutions updates, new services, comprehensive resources, events, company news, and much more.