Zing Insights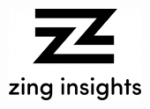 Zing Insights are a full service market research company based in Norfolk.
Company description:
Zing specialise in a number of industries including events/exhibitions, publishing, food & food service and leisure & tourism. Zing pioneered the offline kiosk solution with Snap, we have extensive experience conducting engaging surveys in areas of high footfall, such as shopping centres, events/exhibitions, theme parks and museums. On top of this we also conduct a number of online surveys and qualitative research for our broad array of clients.