Wellbeing at Sea Tool (MCA)
The Wellbeing at Sea Tool is a pre-built survey solution that has been designed specifically to support seafarers' mental health and wellbeing.
Life at sea is one of the most challenging careers to embark on, with rough conditions and long periods away from family. Safety4sea reports that 25% of seafarers have suicidal thoughts, which only increased amid the 2020 pandemic.
The Wellbeing-At-Sea Tool aims to bring about safer lives and safer ships – and we believe it is the perfect tool to better understand seafarers' mental health and wellbeing. It features a wide range of incisive questions and one-click reporting that provides a visual summary of your data.
No experience needed!
Brought to you by Snap Surveys – market leaders in survey software solutions since 1981 – the Maritime & Coastguard Agency and TSO.
Summary
Seafarers play an important role in our economy and – with the challenges they face every day – it's vital they be given a voice.
The Wellbeing-at-Sea Tool lets you do this with ease.
It encompasses general wellbeing, relationships with colleagues and management, diversity and inclusion, physical health, tiredness and fatigue, and organisational support.
It will also provide tailored advice to your organisation.
Easy to run – get started in minutes.
Select up to 37 highly relevant questions
Understand your data with ease thanks to one-click summary reports.
Automatic tailored advice given after the survey is complete.
Quick alerts to deal with issues in real time.
Full privacy policy included.
GDPR data compliance.
All data is stored on UK servers.
The survey will be created for you in just a few clicks and include all the questions you need.
Details
See how the tool looks
Here is an example of a Wellbeing-at-Sea Tool questionnaire.
The 37 questions cover a range of key issues that impact seafarers.
Reports tailored to the Organisation
You'll be surprised how quickly it is to understand the key stories in your feedback.
With the click of a button you'll have a visual summary of everything you need to know. With tailored advice (based on the responses) and action plan suggestions, you'll be well-placed to take appropriate action where needed.
And these reports can easily be shared with clients or colleagues.
Email reports tailored to the Individual
These reports summarise the individual's responses and gives them advice on how to mitigate any negatives they have expressed.
For example – if they are tired, there are tips on how to get a good night's sleep.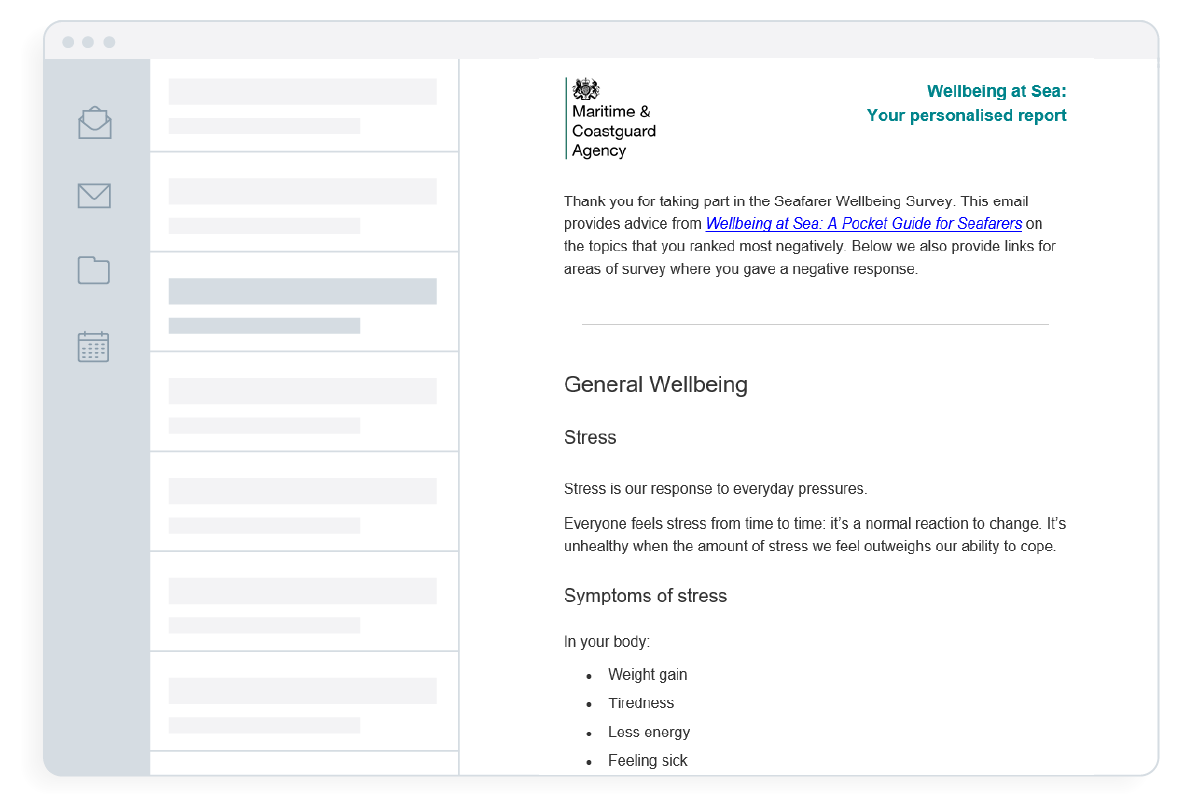 Get started quickly
The hard work has been done for you. Just configure the tool to your liking and you're ready to go.