June is National Safety Month, which aims to highlight and reduce preventable deaths and injuries. We've taken a look at how surveys can be used as a data collection tool to accurately and efficiently gather data and keep records for risk assessments, safety audits, and staff training.
Health and Safety Regulations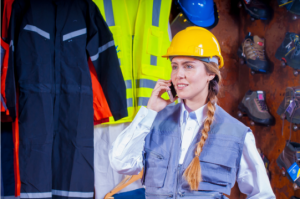 In the UK, the main piece of safety legislation is the Health and Safety at Work Act, 1974; in the US, safety regulations primarily fall under the Occupational Safety and Health Act of 1970.
Health and Safety legislation focuses on employers' responsibilities to assess and minimize potential risks in the workplace. This requires data collection to complete forms, audits, inspections, and to track staff training; the data can then be used to monitor safety and prevent accidents.
Assessments, audits, and inspections
Regular assessments, audits,and inspections are essential to highlight hazards, risks, and areas of concern, as well as to evaluate safety measures and practices. Accurate records are required to monitor safety, and provide evidence of compliance with safety legislation.
An online survey can be set-up to undertake assessments, audits, and inspections. The questionnaire can ask all the relevant questions to gather required information, and it can be completed multiple times at regular intervals. The data will be stored securely, and can be compiled to provide an overview of risks and actions required.
Training
Within a workplace, employees need to be up-to-date with the risks, hazards, safety measures, and emergency procedures that are in place. Most employees require regular safety training, and further training when new equipment is purchased or working practices change.
Keep a record of training by setting up a survey to log each time an employee completes training. A survey can collect the employees' name, role, the training they've received, and also include their signature as acknowledgement that they understand what they've learnt. Accurate training records will also help to keep track of when employees need to be retrained.
Recording accidents and near-misses
Certain workplace injuries, accidents, or near-misses need to be recorded, but any personal employee details must be stored securely. An online survey will capture all the required details about an incident, and this data can be compiled to create reports that help identify patterns, and areas that need improvement. The data will be transferred and stored securely, and access to the details can be limited to relevant members of staff.
Data Collection Tool: Health and Safety Surveys
Online surveys can be used as an effective and reliable data collection tool to help comply with Health and Safety regulations in a number of ways:
Accurate data collection – mandatory questions and answer validation can be used to ensure that all the necessary information is collected and that it's accurate.
Flexibility and transportability – online or mobile surveys can be completed anywhere, even without an internet connection, but they still have all the features and functionality to ensure accurate, secure data collection.
Keep accurate records – data collected in a survey can be stored securely and easily accessed when it's needed.
Reporting – survey software is more than just a data collection tool; it can provide automated, tailored reports that analyze the results and highlight trends, or areas of concern. It's also possible to compare data with previous results, or benchmark against other organizations.
Instant notifications – Email alerts can be set-up to alert relevant staff members when a certain response is given, meaning further action is required.
Snap Surveys Software for Health and Safety
Snap Surveys has worked with the Great Britain's national regulator for work-related health, safety and illness – the Health and Safety Executive (HSE) – to create a tool that could measure safety within organizations.
The HSE Safety Climate Tool provides a customisable questionnaire that can be tailored to different organizations. Once the survey is completed, the organization will have access to personalised reports that provide a comprehensive assessment of attitudes towards safety. The automated reports include identification of high/low performing areas, recommendations for improvements, benchmarks against industry standards, plus analysis of additional user defined questions.
Snap Surveys software is an effective data collection tool that can be used to gather, analyze and secure data from audits and assessments, as well as keeping records, to meet Health and Safety regulations.