Snap Surveys guest blogger Gary Austin of Austin Research explores using the principles of Universal Design for surveys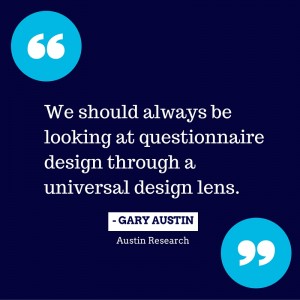 An American architect, product designer, and educator named Ron Mace originally coined the term "universal design". It describes the concept of designing products and the built environment to be aesthetic and usable to the greatest extent possible for everyone, regardless of their age, ability, or status in life.
A widespread example of universal design is the dropped kerb (i.e. vehicle access crossings or crossovers). Dropped kerbs were designed for wheelchair users, but are used by all kinds of people including those with shopping trolleys (shopping carts, for you U.S. folks) or kids on bikes or scooters. The original design process focused on a disregarded group of people, but something better was created for everyone.
So how is this concept useful for survey design? In my opinion, we should always be looking at questionnaire design through a universal design lens. For sampling purposes, surveys should be as inclusive as possible to reduce bias from excluding certain groups. For the good of the future of survey research, we should maximize the respondent experience and minimize the frustration of not being able to complete surveys we've agreed to complete.
Therefore, during the design process, we should be thinking of those who find answering surveys most difficult such as the elderly or those with low levels of literacy. By doing this, we focus on making the language we use as simple and as understandable as possible, and we think about how online surveys can best be visually presented to make them accessible to those with poorer eyesight. By designing surveys for groups that potentially have the most difficulty completing them, we make them easier and simpler to complete for everyone.
---
About the AuthorGary Austin of Austin Research has over 20 years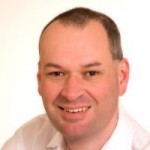 of experience in designing, managing, and interpreting quantitative research projects. He, along with his wife and colleague Julie, shares a true passion for the quality and integrity of surveys, and shares his insights through The Campaign For Better Surveys. Gary will continue to contribute as a regular guest blogger for Snap Surveys. Want to follow Gary?
Twitter: @AustinResearch
Website: austinresearch.co.uk
Better Surveys on Twitter: @BetterSurveys1
Blog: Austin Research Blog
---
References