Tech Support Tip: Easier Collection of Open Ended Survey Replies
As a Snap Survey Software user, you know there are many powerful features. Here is another tip we'd like to pass on to our users.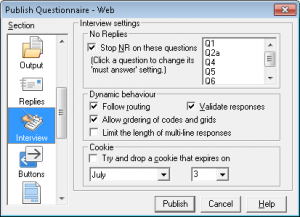 Some questions require respondents to enter responses in detail in an open ended box (comment question box). Previously, when data lengths were applied and the box size was more than one row in size, the data length would essentially be ignored. Respondents were able to enter more characters than the data length set, but when the data was imported it would be truncated to meet the data length. To resolve that issue the Auto-Extend on import feature was added in Data Entry Tailoring.
Learn more about Auto-Extend on import in Snap Online Help.
Now, when a data length is set and the box size is greater than one row, you can still ensure that the data length will in fact be followed. The Limit the length of multi-line responses setting found in Questionnaire Properties: Interview section will allow the data length to be followed.
Learn more about limiting the length of multi-line responses in Snap Online Help.

The new features that have been added regarding the data length are the Character Counters. You can insert these into the Footnote of open ended questions to allow the respondents to know how many characters they have remaining, the total available, and/or the total they have used. These can be inserted through Font (2nd dropdown) > Insert… > Response Property.
Learn more about Character Counters in Snap Online Help.