Do you know the difference between Customer Satisfaction and Customer Loyalty?
Let's start by defining the two.
Customer Satisfaction is a measurement of customer attitudes toward products, services, and brands.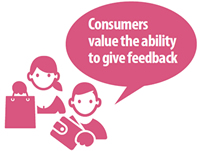 Customer Loyalty has two parts. Customer Loyalty is made up of loyalty behavior and loyalty attitudes. The first, loyalty behavior (i.e. customer retention) is the act of a customer making repeat purchases from a brand rather than choosing a different, competing brand. The second is loyalty attitudes which are a customer's opinions and feelings about products, services, or brands that are associated with repeat purchases. At times, a customer can display loyalty behavior without loyalty attitude.  And vice versa, a customer can display loyalty attitude without exhibiting any loyalty behavior.
Customers are the link to business success, but every day businesses lose customers to competing businesses. Your business simply cannot afford to lose customers to your competition. Customer Satisfaction and Customer Loyalty should be on the forefront of planning. Both should be incorporated into the long-term goals of your business.  Continue reading →