Spread some survey love with our list of 14 things to love about online surveys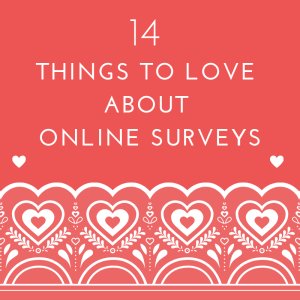 Online surveys are a flexible and efficient way to collect feedback and data from your respondents, which can be quickly analyzed and turned into shareable reports with actionable insights.
We've put together 14 key features of conducting an online survey.
1. Branding
With an online survey you have complete control over the branding. It's quick and easy to add your logo and colors, and create a branded URL to share your online survey, so that your respondents can easily identify the survey with your organization.
2. Interactive questions
There's a variety of different interactive questions that you can use in an online survey to make it more engaging, and gather better responses. Drag and drop questions allow respondents to visually categorize or rank items; interactive images can be a good alternative to check boxes; and sliders will allow you to include more options on a scale without using more space. Continue reading →