Pulse surveys – including employee pulse surveys – are shorter questionnaires that are used repeatedly to gauge progress over time. They are typically more concise, with fewer questions, and avoid delving into too much detail.
Employee pulse surveys are shorter and run more regularly than a detailed employee engagement survey, for example.
Usually, the employee pulse survey asks closely related questions on similar topics.
Such as:
Does the employee have the resources to perform the job?
Has adequate training and support been given?
Relationship with colleagues and management
Engagement with role and the wider organisation
Feelings on the facilities i.e. breakout areas, toilets, canteen etc.
By running the pulse survey regularly, new patterns in employee feedback can be quickly identified which can lead to fast action when needed.
Why employee pulse surveys are important
It's important to run a pulse survey of your employees because it allows for quick and easy feedback. Pulse surveys – whether employee surveys or otherwise – should be short and touch on key points without too much detail.
Forbes states that up to 89% of HR leaders 'agree' that ongoing feedback and check-ins are key for successful outcomes.
So regular employee feedback throughout the year is key.
Your large annual employee engagement survey is always going to be a necessary part of managing people.
But a pulse survey will allow you to keep track of employee sentiment on an ongoing basis.
Pulse surveys are shorter and less detailed, meaning they can be run often and without the need for large-scale survey management.
When you get this regular feedback, you can see how it differs over time compared to previous results.
For example, if 90% of employees 'felt motivated' in June, but only 65% of employees gave the same response in September, you can pinpoint a specific timeframe where something may have changed that contributed to this feedback.
This allows you to act fast to any concerning replies – and potentially double down on thing that you see are working.
Using Your Employee Pulse Survey – 3 Key Steps
Here are 3 key steps to running your employee pulse survey:
1. Be precise
Run your employee survey consistently – such as the start of every quarter – to ensure you get feedback at regular intervals throughout the year.
2. Investigate and make changes
Don't make wholesale changes based on 1 piece of feedback, but if the same point comes up time and time again, perhaps it is worth making a change.
3. Follow-up
If you make changes, you need to know they are successful. Don't wait another 3 or 4 months because that could be too long. Make sure you keep tabs on how any changes you make are being received by your employees.
A follow-up survey should run before your next scheduled pulse survey.
Employee Pulse survey or employee engagement survey?
There is a big difference between employee pulse surveys and employee engagement surveys.
Employee pulse surveys are for quicker feedback multiple times a year. Employee engagement surveys are usually once a year, larger in scale, and encompass many more aspects than a more simpler pulse survey would.
A pulse survey can even be run in response to an employee engagement survey.
What type of questions should you use in an employee pulse survey?
In most surveys, including an employee pulse survey, we recommend using closed questions with some open questions at the end.
What most people don't know is that there are many types of closed questions you can use.
This helps to keep the respondent engaged and prevent survey fatigue.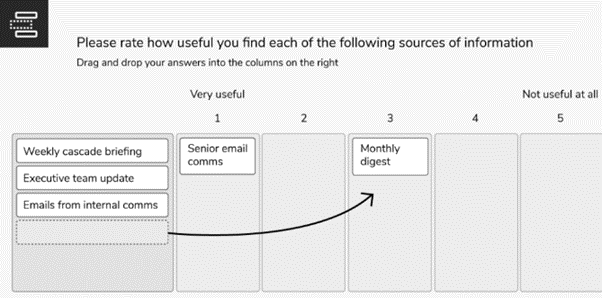 Check out our article on Survey Question Types & Styles for more information.
Employee pulse survey questions – 11 example questions
Here are 11 example questions for your employee pulse survey.
Do you enjoy your job?
Are you motivated in your role?
Do you have the resources to perform your job?
Are the requirements for your role clearly defined by your manager?
Do you have a good relationship with your manager?
How would you describe morale in your team?
How would you describe the facilities at your workplace?
Does the organisation communicate its goals and performance results sufficiently?
Can you see yourself remaining with the organisation over the next 3 years?
What does the organisation do well?
What could the organisation do to improve?
These example questions touch on key points for the employee experience without delving into too much detail.
It also includes open questions that can generate long-form answers that let the employee speak in their own words.
Types of employee surveys
There are many kinds of employee surveys, touching on all the key areas of the employee experience.
Employee pulse survey
A shorter survey that is run throughout the year.
Employee engagement
Finding out how engaged employees are with their role.
Does the employee have everything to perform their job adequately?
Employee satisfaction
Is the employee happy with their role and the organisation?
Remote working survey
Hitting the key areas to assessing the outcome of remote work
How do employees feel about splitting time between the office and working remotely?
Welcome / Onboarding survey
Onboarding is crucial for new hires, make sure you are getting it right.
Exit survey
When an employee hands in their notice, this is a great time for honest feedback about their experience.
Build your Employee Pulse Survey in Snap XMP
Our professional survey platform lets you create Employee Pulse Surveys that get great results.
Questionnaire Design & Distribution
Analysis & Reporting
Multi-Language
Any device – Online or Offline
Branding & Personalisation
Used by governments and organisations both large and small, all around the world.
Click the link below to learn more.