The 4 Elements that Make a Great Survey
No matter what industry you are in – business, education, healthcare – you will use surveys as an important tool to collect respondent data. Any industry can benefit from conducting surveys. A great survey solution is advanced survey software.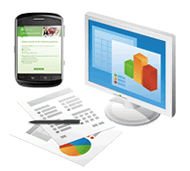 Businesses use survey software to create marketing surveys, product surveys, customer satisfaction surveys, employee satisfaction surveys, and many more. Educators use survey software to create student surveys, course evaluations, and can even create and administer student assessments. And those in healthcare can use survey software to administer patient satisfaction surveys, health assessments, and other health-related surveys. In many advanced survey software solutions, mobile applications are available to administer on mobile devices such as iPads, iPhones, and tablet PCs.
No matter what objectives the researcher has for a survey, results are only reliable and valid if the survey questions are prepared and administered correctly and in the proper survey mode. Some surveys are poorly written or they are targeted to the wrong audience, generating inaccurate data. Here are a few tips for designing surveys and developing survey questions. Continue reading →