Access a new online tutorial that walks you through creating survey email invitations and reminders using Snap Survey Software
This new interactive tutorial will guide you through the entire process, including how to populate your survey and email messages with database information. And best of all, it's free!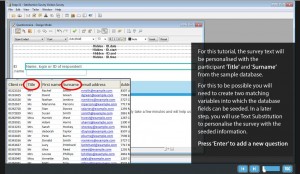 This tutorial will show you how to:
Create a link to your database of survey participants
Personalize your survey and email message
Send invite and reminder messages
Automatically log-in survey participants
Would you like to see more e-learning tutorials like this? We'd love to have your feedback. Please complete the following short survey.