Want to learn 14 tips to improve response rates? We'll finish with 8-14.
As we mentioned in the first 7 tips, the higher the response rate, the better. But getting that high response rate can be difficult. Here are seven more easy tips for improving your overall survey response rates.
Response Rate Tips 8-14
8. Offer an incentive. Offering incentives to respondents for completing your survey captures big attention. The incentive can be anything from a sizable prize offering, a discount, a gift card, or even special reports or white papers. Whatever the incentive, it must benefit respondents. The more the incentive is in-line with the interests of your respondents; the more likely they are to complete your survey.
9. Anonymity – There will come a time when more personal questions will need to be asked. If a personal question must be asked, always give the respondent the ability to skip a question or choose an answer such as "I prefer not to answer." If you are planning to administer a survey with many personal questions, consider working with a third party survey research provider. Many survey software providers have the internal survey research resources to work with you on your project.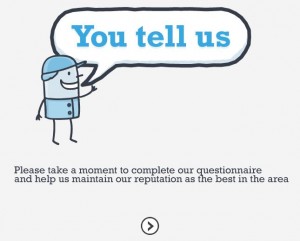 10. Express confidentiality. Clearly express how important confidentiality and security of respondent information are, and the steps your company is taking to support those claim. In the survey introductory statement, explain to respondents how their feedback will be kept in strict confidence.
11. Smooth flow of content. Ensure the design of the survey has a nice and smooth flow. The sequence of individual survey questions as well as the sequence of each section in the survey should have a logical flow, which naturally leads respondents through the survey.
12. Clear wording. The objective of your survey is for your respondents to provide truthful, meaningful data. All survey questions should have proper wording and a clear perspective. Correct use of wording will help respondents to focus their thoughts and feelings, resulting in more accurate and meaningful data.
13. Target interests. Connect with your respondents by creating engaging questions that target their interests. Targeted interest questions will generate more overall interest in the survey.
14. It's all about timing. The time and day you administer your survey can affect how substantial or how weak your survey response rates will be. Sending an online survey during a time when people are generally very busy will likely reduce your chances of survey completion. Additionally, administering an online survey during a time when your respondents are unreachable will also have a profoundly negative effect on your response rates. For example, if you are surveying grammar school teachers, it would be best to avoid the summer as many teachers are on summer break and are unreachable. Plan your survey administration accordingly and ensure you send your survey at the most ideal time to reach your desired audience.
Always look for better ways to improve your overall response rate. The better the response rate, the better your data.