Introduction to SurveyPaks
SurveyPaks are a feature available in Snap Desktop that can help you create surveys quickly and consistently. They consist of pre-designed questions which you can re-use. They are intended to make it easy for you to create surveys by providing standard information and questions.
SurveyPaks may include
titles and instructions
questions including code frames that can provide standard answers to multi-choice questions and questions in multiple languages
surveys or sections of surveys
survey templates
All SurveyPaks are shown in the Reference window. There are two SurveyPaks supplied with Snap Desktop. These are
Reference SurveyPak that provides a selection of pre-defined questions, questionnaires and survey templates that can be used in your own surveys. This SurveyPak cannot be edited.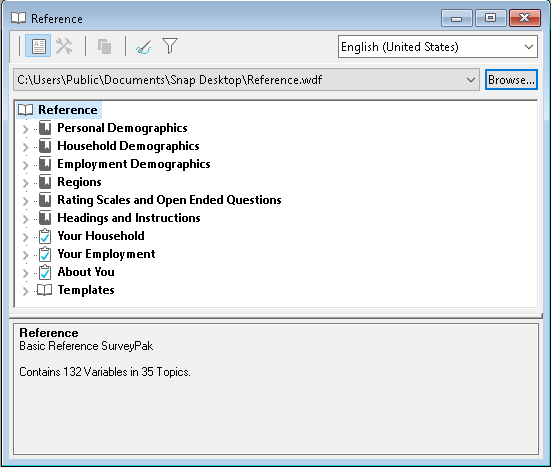 User SurveyPak that provides standard topics where you can add your questions, surveys and survey templates. This SurveyPak can be edited.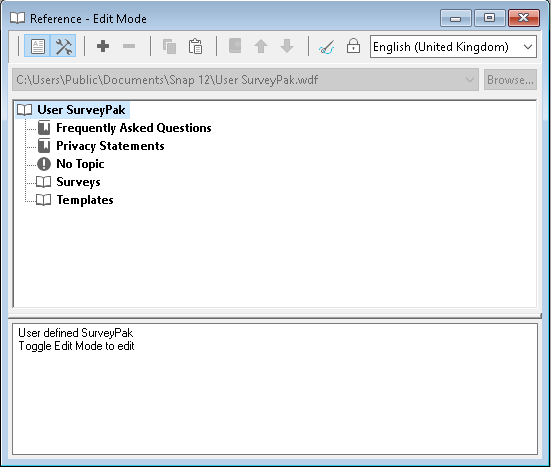 You can create and edit your own SurveyPaks. Managing SurveyPaks provides more information on creating your own SurveyPaks. Once created, you can add questions to SurveyPaks and sort the contents into different topics. There is further information on this topic at Questions in a SurveyPak.
If you're looking for a particular question in a SurveyPak you can search for it using a filter. This allows you to search for one or more words or sets of words anywhere in the question text. You can use several filters at the same time and keep the filtered results until you close the SurveyPak or the Reference window.
SurveyPaks can also include survey templates. Survey templates make it easy to create surveys. They are useful when you need to create surveys containing questions required by legislation or when creating surveys with multiple editions and multiple languages. These questions and editions will be included automatically when a survey is created.
The Reference SurveyPak includes system survey templates that are available when creating a survey. When a survey template is added to the User SurveyPak or another user-defined SurveyPak it becomes available in the list of User Templates. These can be selected from the New Survey template dialog when creating a new survey. Further information on survey templates is available at Introduction to Survey Templates and Using User Templates.