Mistake #2: You haven't put the respondent front and center in the customer feedback process
The most important adage in commerce – the customer always comes first – is equally true of handling the feedback process.
"Often, surveys are structured so that the organization's issues are being explored and not the consumer's, and that can be frustrating," says Woolley.
Indeed, the Snap Surveys consumer research shows that consumers have high expectations in this area. Asked if they believed companies take more notice of customer feedback today than five years ago, a resounding majority – 72% – agreed they did, because of increased market competition, diminishing customer loyalty and the influence of peer reviews. [see graph]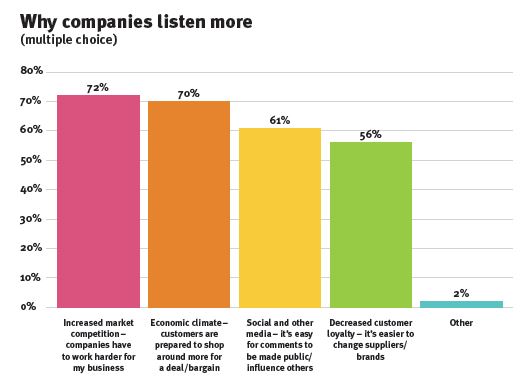 "When I contact a company to make a complaint or to request service, I expect a response and not just a computer-generated platitude." – Response to Snap Surveys' Consumer Panel research, 2012
The overwhelming message from consumers contacted by Snap Surveys: we want to give brands our feedback, so make it easy for us to do so.
Solutions:
1. Go multi-mode and let customers use their preferred channel [see Mistake 3, next post]. If you adopt the mantra 'right time, right place, right channel,' you can minimize consumer inconvenience when collecting feedback, in particular when it comes to mobile surveys.
"Mobile is appropriate if the feedback need is in the moment, such as if you're at a concert and organizers want to know what you think of the venue," Woolley says.
2. Harness automation to respond to complaints or expressions of interest. If it's your company policy to respond to feedback, technology allows you to do so in near real-time. Snap Surveys' WebHost online and mobile survey management platform for instance, allows marketers to set up email alerts to a specified customer department email address if a particular survey answer is selected. If a service has been rated poorly or a consumer indicates an interest in your product or service, this ensures a quick response.
View:
Blog Series Intro: 7 Most Common Mistakes in Gathering Customer Feedback
7 Most Common Mistakes in Customer Feedback, #1 No Clear Objective
Blog series expectations
Throughout this 7 part blog series, we will walk you through the 7 most common mistakes in gathering customer feedback and what you can do to avoid them. We will also offer the full report as a download at the end of this blog series.
Source: Excerpts from the Expert Report: Walk the talk: the 7 most common mistakes in gathering customer feedback – and how to avoid them, by BrandRepublic in association with Snap Surveys.