Adding a survey template to a SurveyPak
There are two SurveyPaks supplied with Snap Desktop. These are
Reference SurveyPak that provides a selection of pre-defined questions, questionnaires and survey templates that can be used in your own surveys. This SurveyPak cannot be edited.
User SurveyPak that provides standard topics where you can add your questions, surveys and survey templates. This SurveyPak can be edited.
When a survey template is added to the User SurveyPak or another user-defined SurveyPak it becomes available in the list of User Templates. These can be selected from the New Survey template dialog when creating a new survey.
All survey templates are added to a user-defined SurveyPak from the Offline Surveys section of the Survey Overview window. If you need to add an online survey template to the available list of user templates, you need to clone it as an offline survey in the Survey Overview window first.
Create a SurveyPak
Click Reference on the Snap Desktop toolbar. This opens the Reference window.
Select the User SurveyPak or create a new SurveyPak. Further information can be found at Managing SurveyPaks.
Click Toggle Edit Mode to allow the SurveyPak to be edited. This enables the editing toolbar.
Select the Templates label then click Import Template. This opens the file selection dialog.
Select the survey template file. Template files have the extension .tmdf.
Click Open. This opens the Embedded file properties dialog.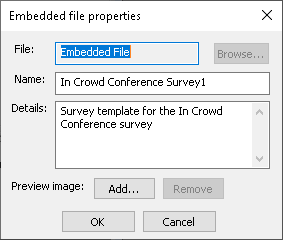 Edit the Name and the Details fields. The information you type for the name appears in the SurveyPak tree view. The details appear in the SurveyPak preview pane.
Click Add to add an image that is used in the New Survey dialog to identify the survey template when creating a new survey. Browse to the image file, select it then click Open. The image will be shown in the SurveyPak preview pane.
Click OK. This opens the Maintain Embedded File dialog. This ensures that the survey template is updated to your current release of Snap Desktop and that all personal data is removed from the survey template before it is embedded. Leave all boxes checked and click OK.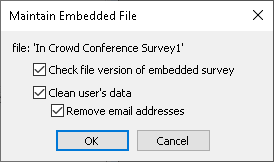 If any changes were made (eg, email addresses removed or the survey updated) a summary report is displayed.
The survey template is added to the SurveyPak and is displayed in the list of Templates.