Snap XMP offers you various options to anonymise your survey data, such as,
running anonymous surveys with no personal data submitted to Snap Online
running surveys that identify if a participant has responded but not linking them to their response
removing identifiers from the data after collection so that further processing is on anonymised data only
If you want your survey to remain anonymous:
Don't ask participants for personally identifiable data including email address, name, postal address and phone numbers.
Don't add a database of participants to your survey in Snap Desktop or Snap Online.
To deploy your survey you can:
Put the link and/or QR code for the survey in places where your participants will have access to it, for example your website, intranet or on posters
Print a paper version and leave it in relevant places
Finding the link and QR code for the survey
Log in to Snap Online and the first page shown is a summary of Your Work.
Click on your survey to show the Summary then click the Collect link.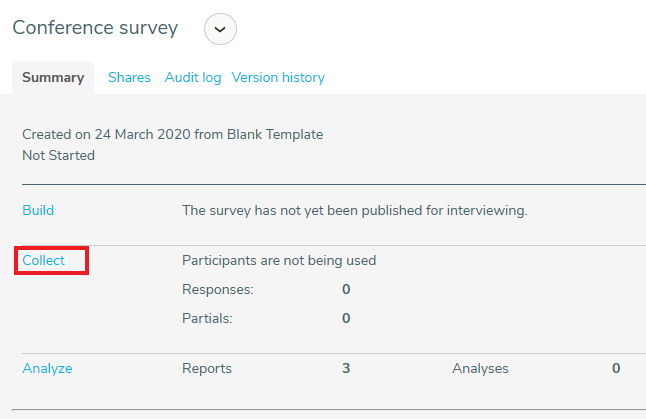 You will need to publish the survey, if it is not already published. Click the Publish current version button to publish your survey then click OK to confirm.

When you have published your survey the Overview shows the Interview URL and QR code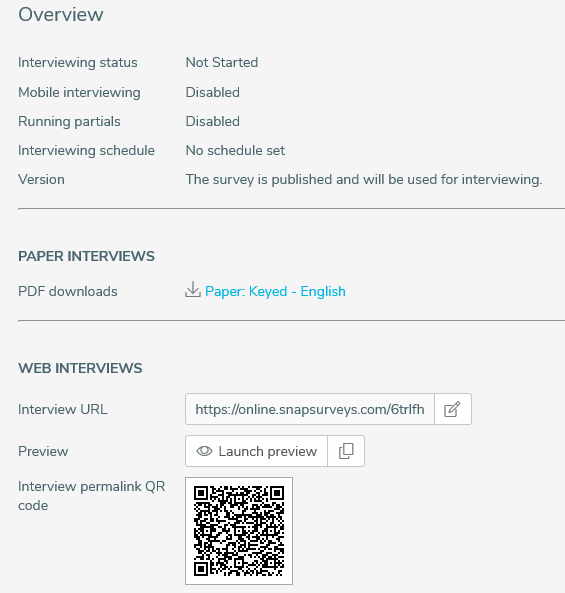 If you want to deploy a survey where you contact a participant in your database you have three options:
Circulate the link to your survey using your own email system – in this case, no personal data is uploaded to Snap Online
Follow our worksheet Anonymisation in Surveys – Sending an email that doesn't identify the participant
Follow our worksheet Anonymisation in Surveys – Sending an email that includes a unique participant identifier
Finally, if you want to anonymise your survey after carrying it out, you can remove personal data from the data file. For further information please see Anonymising data after carrying out your survey .
When you use Snap Online to collect survey responses, it will not collect the participant's IP address in conjunction with the survey response. As explained in our Privacy Policy (https://www.snapsurveys.com/survey-software/privacy-policy-uk/ ) Snap Surveys separately records participant IP addresses and other technical information in its backend logs, which it deletes after no longer than 6 months. This technical information is not linked to survey response data and is not shared with customers.
If there is a topic you would like a tutorial on, email to snapideas@snapsurveys.com