Page Breaks are used to separate the questions on to different pages. You can use them to group like questions on a page. Your questionnaire may change depending on the answers the respondent selects and you can put dependent questions on different pages.
You can find the Page break at the bottom of the Insert question side menu.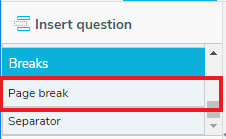 You can insert a Page break in the same way as other questions by either double click or drag and drop.
Use your preferred method to insert the page break. The example shows a page break between the subtitle and Q1.