Sometimes it is necessary to delete all the cases. For example, if you have imported an incorrect data file or you started to key cases and then found you wish to make major changes to the questionnaire.
If the Survey Overview window is not showing on the screen, display it by selecting File | Survey Overview or click .
Highlight the survey to be deleted by clicking on it with the mouse or by using the arrow keys on the keyboard to move through the list and locate it.
Click to delete the survey. You will be prompted to select which part of the survey you wish to delete.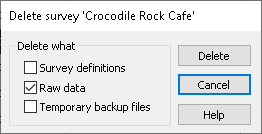 Clear the Survey Definitions option and check the Raw Data option.
Click Delete.
A warning dialog box will appear requesting confirmation. Click Yes to confirm that the survey raw data is to be deleted.