Snap Desktop calculates statistics about the speed of data entry and whether there were errors.
If the data is entered by hand, the statistics can help you cost the data entry by calculating the cost per case or per hour. The layout or clarity of the questionnaire can affect these figures. The summary also shows whether cases have been deleted or whether there are errors in the entries.
Viewing the statistics
Click Data Entry on the Snap Desktop toolbar to display the Data Entry window for the selected survey.
Click Statistics on the Data Entry toolbar to display the Data Entry Statistics window. The statistics available vary depending on the type of survey and data entry method. If you have scanning enabled, this displays a scanning summary.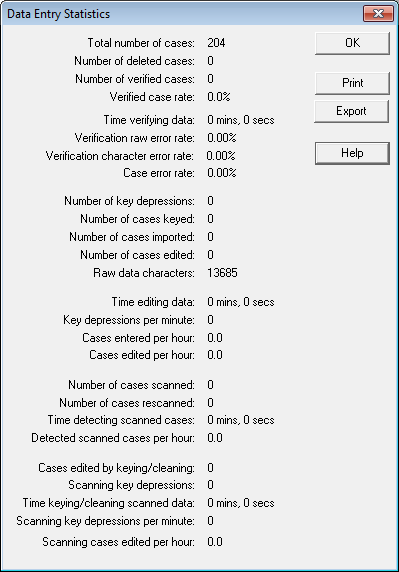 Explanation of statistics
| | |
| --- | --- |
| Statistic | Meaning |
| Total number of cases | Total raw data cases stored for all editions of the current survey |
| Number of deleted cases | Number of cases deleted across all editions of the current survey |
| Number of verified cases | Number verified across all editions. Note that verified cases become unverified if they have been changed so this value may vary over time. |
| Verified case rate | Number of cases verified divided by the number of cases across all editions, expressed as a percentage |
| Time verifying data | Time taken to verify data |
| Verification raw error rate | Rate of change in the raw data during verification across all editions. This gives the proportion of errors detected and corrected during verification. If Ignore Literals is checked on the Data Entry Tailoring dialog, literals are assumed to be 100% accurate. Routing is not followed. Variables which are correctly marked as not asked are assumed to be 100% accurate. If text is inserted in an open response, subsequent characters will be marked as changed if they differ from the character previously in their new position. |
| Verification character error rate | Rate of change to codes in multi-choice questions and characters in open-response questions during verification. If Ignore Literals is set on the Data Entry Tailoring dialog, literal variables are not included in the statistic. Routing is not followed. Variables which are correctly marked as not asked are assumed to be 100% accurate. If text is inserted in an open response, subsequent characters will be marked as changed if they differ from the character previously in their new position. |
| Case error rate | The proportion of verified cases with errors. |
| Number of key depressions | Number of keys pressed for keyed data entry and verification. This includes data entered during any addition, modification or cloning of data but not scanning keying/cleaning. Scanning keys are recorded separately. This excludes control key depressions such as Enter or Tab |
| Number of cases keyed | Cases entered or keyed by hand in the data entry window |
| Number of cases imported | Cases created by database import |
| Number of cases edited | Cases created or edited via keyed data or imported entry or modified via verification but not scanning. Scanning cases are recorded separately. |
| Raw data chars | Characters in the raw data file excluding spaces |
| Time editing data | Time spent creating, editing and verifying keyed data, not including any scanning time. Scanning times are recorded separately. If more than 4 minutes is spent between key presses, timing is suspended until the next key press. |
| Key depressions per minute | Number of key presses for keyed data and verification divided by time to key and verify. This does not include any scanning keys or time. This is a measure of the speed performance of the operator. |
| Cases entered per hour | Number of new keyed cases divided by the time to key and verify. This is a measure of the speed performance of the operator. |
| Cases edited per hour | Number of cases edited divided by the total time spent editing data in an hourly basis. This is a measure of the speed performance of the operator. |
Explanation of scanning statistics
| | |
| --- | --- |
| Statistic | Meaning |
| Number of cases scanned | New cases created by detecting in scanning |
| Number of cases re-scanned | Existing cases which have had been re-detected in scanning |
| Time detecting scanned cases | Time taken detecting scanned cases |
| Detected scanned cases per hour | Number of cases detected divided by the time for detecting. |
| Cases edited by keying/cleaning | Number of cases modified during keying/cleaning. Note that multiple passes through keying and cleaning may save the case multiple times. |
| Scanning key depressions | Number of key presses during keying/cleaning, including Enter and mouse clicks. |
| Time keying/cleaning scanned data | Time taken during keying and cleaning of the scanned data |
| Scanning key depressions per minute | Number of key presses (and mouse clicks) divided by the time taken for keying/cleaning. This is another measure of the speed performance of the operator. |
| Scanned cases edited per hour | Total number of scanned cases that have been keyed/cleaned divided by total time spent editing scanned data in an hourly basis. This is another measure of the speed performance of the operator. |