Changing the size of charts (and other image analyses) in your report
You can use a window size instruction to set the sizes of images. This ensures that image based analyses (such as charts, word clouds and maps) and text contained within them appear at a predictable size.
A window size instruction defines the relative dimensions of subsequent analyses appearing in the report. The actual pixel dimensions of analyses may change if the analysis is resized.
Open your report
Click on the toolbar to add a new instruction and select Window Size. The Window Size instruction dialog opens.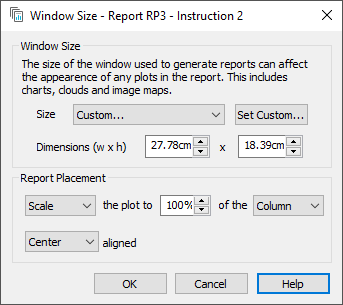 Enter the dimensions that you would like for your image analyses. Click Set Custom to open an adjustable window where you can specify the size.
Click OK to add your instruction to the report.
Click to save the report.
Hints and tips
To place analyses in the middle of the page, set max scale to 50% – the analyses will expand to fill 50% of the available space, placing it in the middle.
Set analyses to Autosize in chart designer to ensure chart contents auto scale.
The screen resolution at which a PDF report is viewed will also affect the appearance of charts.
Set to standard size unless you are absolutely certain of the size used to view your reports.