Analyzing your survey data
Once you have started to collect some responses to your survey you will want to put this information to use. Analyzing the results can help you understand the responses from your participants.
In the Analyze section you can
Run the standard reports
Update the data responses as they come in
Set up filters and contexts
Download the report to PDF format
Print reports
There are two ways of navigating to the Analyze section.
Click the Analyze link from the Conference survey Summary tab in Your work.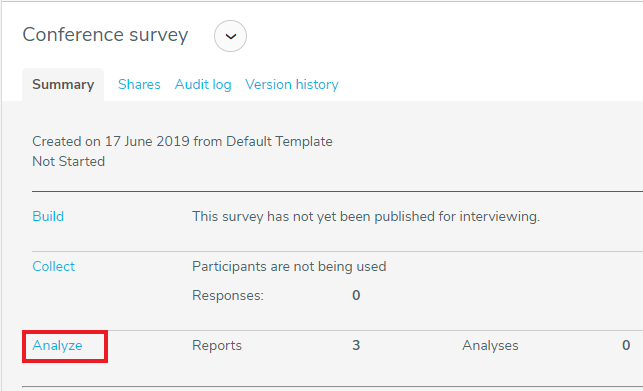 Click the Analyze tab from the Online Editor.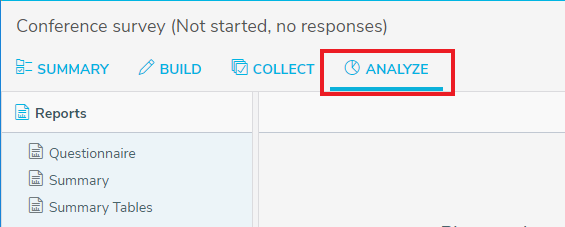 Viewing the standard reports
Snap Online provides three standard reports with each survey.
Questionnaire report generates a top-line summary report showing the counts or percentages of responses in the questionnaire layout
Summary report generates a chart, table or list for every question
Summary Tables report tabulates responses to all questions
You can find these in the Reports side menu on the left which is shown by default when you view the Analyze section.
Click on a report name in the Reports menu to generate the analysis from your survey responses. You can run reports on your survey data while interviewing is taking place as well as after interviewing has closed.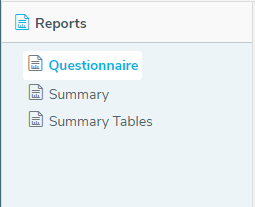 The report is displayed in the Adobe Acrobat document application.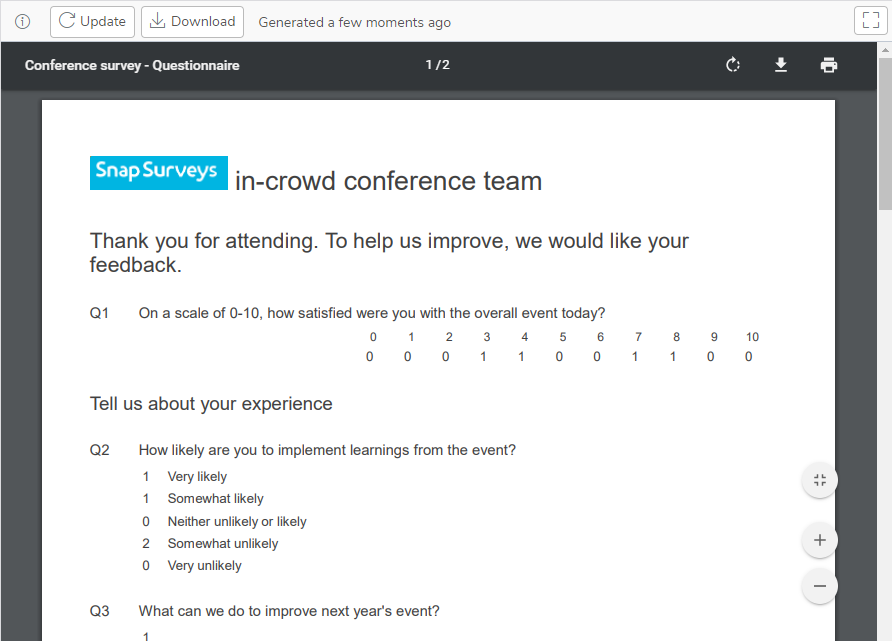 The features available through this add-on are

Rotate clockwise
Download
Print via print preview options
Fit to page or width
Zoom in and Zoom out

You can click the button to maximise the report to view it in full screen. Click it again to go back to the standard view.
Hovering over the icon displays the filter or context information that has been applied to the current report.

Updating your reports with the latest survey data
Usually you will want to work with the latest survey results as your survey runs.
Navigate to the Analyze tab.
Click on the Update button to update the report with the latest survey data

Information on how long ago that data was generated is displayed.
The Update button will refresh the data if new responses have been received, the filter or context applied have changed, or the time elapsed since the report was generated is over an hour.
Downloading your analysis reports to a PDF file
You can download a report to a PDF file that can be imported into other applications to further analyze the survey responses.
Navigate to the Analyze tab.
Click on the Download button to generate a PDF file.

The download is found in the Downloads folder or another location as determined by you or your web browser.
You can also use the Adobe Acrobat download feature.