Analyzing using the standard reports
Three standard reports are created for each survey.
The Questionnaire report generates a top-line summary report showing the counts and percentages of responses in the questionnaire layout.
The Summary report generates a chart, table or list for every question
The Summary Tables report tabulates responses to all questions.
You can find these in the Reports window.
Click on the toolbar to open the Reports window.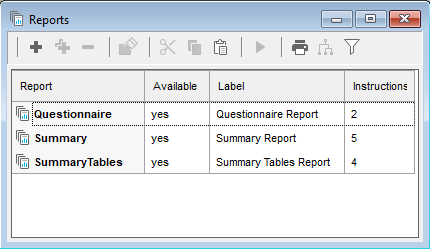 Select the Questionnaire, Summary or Summary Tables report in the window.
Click the Execute button on the Reports window toolbar to run the report. The Report Execution dialog opens showing the report selected in the window title.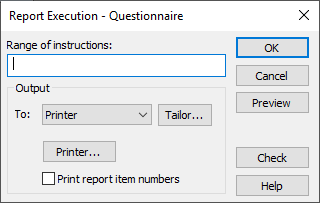 Click Preview to preview your report on screen.
Close the preview window.
Click the button on the Reports window toolbar to open the Report Execution dialog.
Click OK to run your report to your printer or to a file.
An example of the Summary Report for the sample survey Crocodile Rock Cafe.