Online and Mobile Survey Management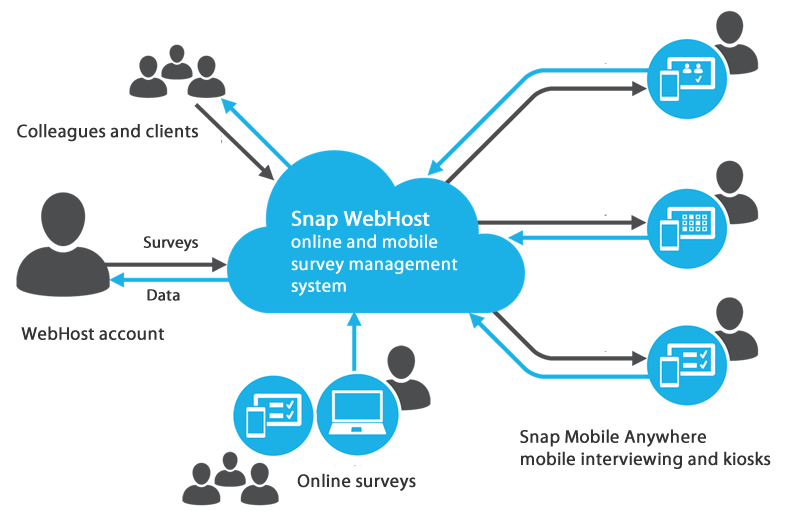 Online surveys and mobile interviewing managed through one easy-to-use online subscription service, Snap WebHost. Create your survey using Snap Survey Software, upload to Snap WebHost, and you and your colleagues can manage online surveys and mobile interviewing wherever you're based.
Online surveys
Once your survey is uploaded to Snap WebHost:
You can pilot it before full roll-out (always recommended)
Send SMS/ email invitations and reminders to maximise response rates.
Share surveys via social media
Pre-seed surveys with imported data to personalise the participant experience.
Manage quotas
We've also got some clever features including email alerts, which ping an email to a nominated contact if certain answers are given, and AttachIt, where participants can upload images and other files in answer to questions.
Read more about online surveys →
Panels and course evaluation
Snap WebHost enables you to create and manage panel surveys through a feature called projects. If you require participants to complete a number of online surveys over a period of time you can present them with the surveys they need to complete through their own unique log in and welcome page. Set up survey invitations and reminders and integrate the reporting using the projects feature. Contextualised reporting can be set up which in the case of course evaluation for example, each tutor or teacher has a unique log in to Snap WebHost and can view their own results as reports.
Snap Mobile Anywhere
Snap Mobile Anywhere is our mobile interviewing App. It enables surveys to be accessed on the move using  iPads, iPhones, Android and Windows devices. Many of our customers use Mobile Anywhere for field interviewing, it's also used in kiosk mode at events and visitor attractions.
Surveys are created on a PC and uploaded to Snap WebHost
Interviewer access and surveys are assigned via Snap WebHost
View results online in real time
Download results including geolocation data
Read more about Snap Mobile Anywhere →
Online analysis and reporting in Snap WebHost
Reporting can be as simple or as sophisticated as you need. Summary reports come as standard in your account, you can view your live data as charts or as percentages and counts on the survey and download as a PDF.  You can also create contextualised and filtered reports which colleagues can further tailor and interrogate, or create view only real time reports that colleagues and clients can log into online. Data can be downloaded directly into Snap on your desktop or as a CSV file for further analysis.

Collaborate and share with colleagues and clients
You can create different associate account levels:
Concurrent – colleagues can log in at the same time to a shared WebHost account. They can upload and manage surveys and view results. Only one person can work on an individual survey at any one time, but more than one person can be in the account. This level of associate account has the same rights as the main account holder.
Associate –  set up a log in and password,  designate which survey or surveys they can view. You can also designate the data and analysis they can see, either view only or give them the ability to tailor their own analysis.
Contextualised analysis logins – give  clients and colleagues access to real-time personalised survey results. Set permissions so they can only view specific analyses and reports. For example show results  for Region A to Manager A, Region B to Manager B and so on.
Interviewer associate –  set up a log in and password to allocate Snap Mobile Anywhere surveys to field interviewers (can be single or multiple accounts)
Call us for pricing options at 603 610 8700 or email sales@snapsurveys.com
In-House Install of Snap WebHost
You can purchase Snap WebHost as a product, Snap Server Edition, to install on your own server (Windows servers running IIS). Having Snap WebHost on your own server means that you can maintain control over security by keeping respondent data within your firewall. You can brand In-House Snap WebHost surveys and securely gather and manage responses. Learn more about the
Snap Server Edition
.
Call us for pricing options at 603 610 8700 or email sales@snapsurveys.com