Online and Mobile Survey Management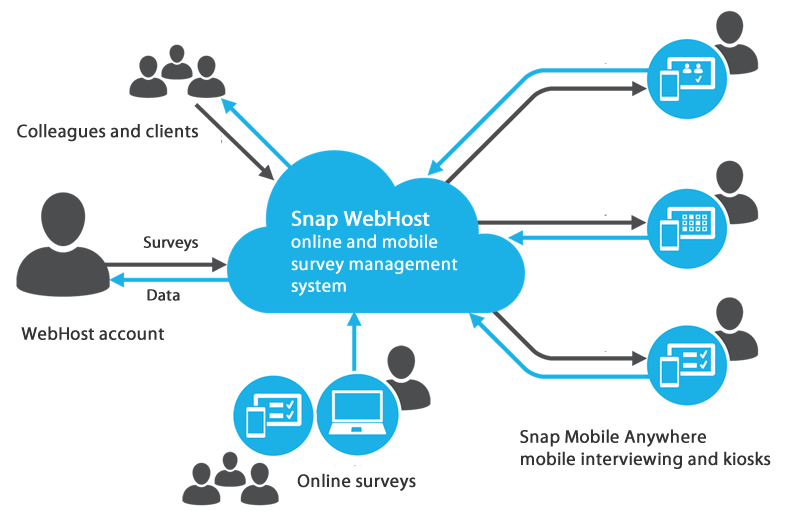 Online surveys and mobile interviewing can be managed through one easy-to-use online system, Snap WebHost. Create a survey using Snap Surveys software, upload it to Snap WebHost, and you and your colleagues can manage online and mobile surveys wherever you're based.
Online surveys
With an online survey created in Snap Surveys software it's possible to:
Pilot the survey before full roll-out
Create and schedule email invitations and reminders
Pre-seed the survey with data imported from a database
Manage quotas
Set up automated email alerts
Allow participants to upload images or files as part of their answer
Read more about online surveys →
Mobile surveys – Snap Mobile Anywhere
Snap Mobile Anywhere is an offline survey app, which can be used to conduct surveys and interviews in the field without a continuous internet connection. It's also used in kiosk mode at events and visitor attractions.
Mobile surveys are created in Snap Professional and uploaded to Snap WebHost, where you can assign surveys to devices, and set up interviewer access. Responses are collected on the device, stored securely, and then when an internet connection is available the data is synced with Snap WebHost.
Read more about Snap Mobile Anywhere →
Online analysis and reporting in Snap WebHost
Within Snap WebHost you can view several summary reports that include live data. It's also possible to create contextualised and filtered reports for colleagues to work with, or real time reports to share with clients. The data can be downloaded to Snap Professional for further, advanced analysis.
Collaborate and share with colleagues and clients
Create different account levels with Snap WebHost to give tailored access to colleagues and clients:
Give colleagues their own log-in to a shared WebHost account so that they can manage surveys and view results.
Specify which surveys, data and analysis certain log-ins can access or view, and allow them to tailor their own analyses.
Set up contextualised analysis log-ins that show real-time personalised survey results, and decide which analyses and reports are shown.
Allocate mobile surveys to specific field interviewers by setting up a log-in through Snap Mobile Anywhere.
Call us for pricing options at 603 610 8700 or email sales@snapsurveys.com
Snap WebHost data security
Snap WebHost conforms to the best available security standards and guidelines for data privacy. Our systems are ISO 27001 certified, and we have data centers hosted at Rackspace, which are ISO 27001 and SSAE16 certified.
It's also possible to purchase Snap WebHost as a product, Snap XMP On-Premises Server Edition, to install on your own server. This gives you complete control to host surveys, gather responses and store data on your servers, in line with your organization's own HIPAA compliant data privacy and security standards. You can also brand your in-house Snap WebHost surveys to reflect your organization's identity. 
Learn more about the Snap XMP On-Premises Server Edition.
Call us for pricing options at 603 610 8700 or email sales@snapsurveys.com