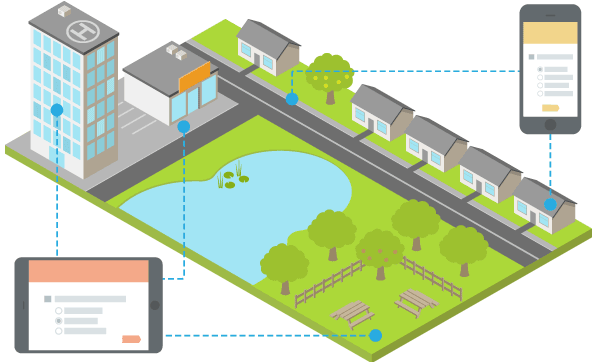 Collect replies anytime, anywhere using tablets, smartphones, and kiosks.
Our customers are using Snap Mobile Anywhere to:
Monitor and improve the visitor experience at events.
Collect census data in developing countries with no reliable internet.
Engage with customers and prospects at point of experience.
Conduct patient surveys and hospital audits to measure and compare current practice.
Interview face-to-face in the field.
Features
24/7 uninterrupted mobile interviewing
Losing connectivity during field research can lead to higher drop-out rates and missed opportunities. That's why we've developed Snap Mobile Anywhere to work just as happily offline. Surveys and data are automatically synced when a connection becomes available, so you can be sure of uninterrupted interviewing, wherever you are.
View real-time results
Collecting honest and objective feedback at point of experience is just the start. With Snap Mobile Anywhere, you get instant access to live results; view a real-time summary of replies, create new analysis on the fly, and filter to see how different groups are answering different questions.
Share personalized analysis and reports
Give your clients and colleagues 24/7 access to view real-time survey results. Set permissions to specify which analysis and reports each reader can see, and configure analysis on the fly. Reports and analysis can also be configured to the readers' perspective, for example, to show results for a particular site or region compared with all other surveyed sites or regions.
Monitor replies and react instantly
Monitor live survey results from the comfort of your desk and make timely, informed decisions to improve your customers' experiences. You have complete control over the interview process, and can adapt questionnaires in response to live survey results, for example; modify questionnaire lists for individual interviewers, remove or rephrase ineffective questions, add new follow-up questions, or move interviewers to the busiest locations.
Your data is safe with us
We're proud to be one of the very few organizations to have achieved ISO27001 certification – the highest possible standards of information security. Survey data is encrypted throughout the survey cycle – on your device, on the server, and when in transit. You can also specify interviewer logins for added security.
Create dynamic and engaging surveys
Snap Survey Software gives you total flexibility to ensure the look and feel of your survey reflects organizational branding. Increase response rates with surveys that are engaging and enjoyable to complete, with our range of interactive questions and advanced survey features.
Additional Features include:
Record the time, date, and location co-ordinates for each interview.
Run in tandem with online and paper versions of your questionnaire.
Auto reset kiosk questionnaires to start of survey.
Complex question routing, piping, and answer masking
Interactive and visual questions
Surveys in any language