Access our helpful worksheet to learn how you can send automated email notifications ever time a specific reply is given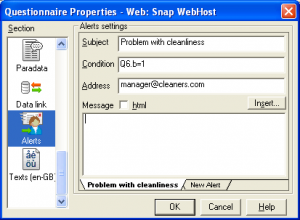 We have created a helpful worksheet explaining how you can easily set-up automated email notifications when a specific reply is captured in an online survey.
With Snap WebHost, our online survey management system, you can send email invitations to a list of participants in your online survey, and you can also send an email to a specific email address if a particular answer is selected. 
You can use alerts to:
notify specific people or departments depending on survey results.
send a specific email depending on various conditions (for example, the age of the participant or where they live).
You can send email messages, including survey data and information from your participant database – for example: contact details or a response related message. You can also create highly specific rules based on the answers to multiple questions, and send alerts to any email address – including the participants' own.
This worksheet covers the following areas:
Use the status bar to look up variable names and codes
Set up a simple email alert
Add and delete alerts