Access our new, helpful worksheet to learn how to personalize email invitations and reminders for online and mobile surveys
In our latest worksheet, we describe how you can send an email from Snap WebHost, our online and mobile survey management system, which includes personalized information for your respondents (e.g. their name, title). It easily connects the survey to a database which contains respondent's email addresses together with information about each respondent.
How does it work?  
When you set-up an email invitation (or reminder email) in Snap Survey Software, you simply add respondents' details from the database into their invitation email. When you upload a published survey to Snap WebHost, you upload the survey itself, any images used in the questionnaire, and the information from the linked database that Snap WebHost needs to send out the emails.
The information in the email is kept separate from survey responses, so a response can be totally anonymous, even if the respondent is identified in the email.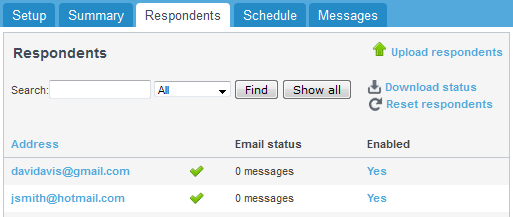 Summary of worksheet steps
Step 1: Connecting to the database
Step 2: Setting up the emails
Step 3: Publishing your survey with the database link
Access this worksheet: Putting someone's name or other details in an email