Introducing a new feature available to Snap Survey's online survey software users. Filter survey results to customize the view of survey data results for your clients!
If you are a Snap WebHost customer and want to share your analysis online with clients or different stakeholders in your organization, our new online survey analysis feature enables you to display only the results relevant to those individuals.
Using client accounts on Snap WebHost, you can now set-up a filter for each survey, which will be applied to the clients' view of all the analysis from that survey. Clients can have access to multiple surveys and filtered analysis results.
When your client logs into their account on Snap WebHost and views the analysis for an online survey, they see their customized results. A filter, specific to that client, applies itself to the data and creates the customized analysis. The filter itself is not visible to the client. Here is an example of what clients see. They see only the results created for them.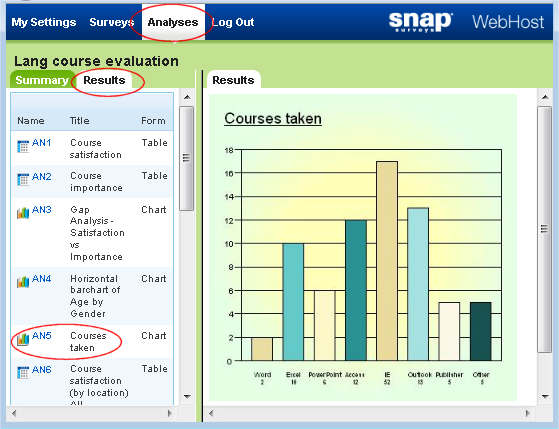 Explore our new worksheet to see how you can use the new filter function in your next online survey research project.
Worksheet: Filtering the analysis your clients see