Use mobile data collection to increase survey response rates with a consistent browsing experience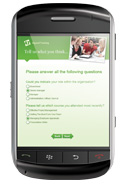 What is a mobile survey? A mobile survey is essentially an online survey adapted to the screen size of any mobile device. Increase survey response rates with a consistent browsing experience across a range of screen sizes and devices, with surveys that adapt automatically to any screen size.
Why is mobile so important? Mobile data collection provides data collection opportunities for a wide variety of market sectors. From healthcare, market research, and education, to travel & tourism, non-profits, and government agencies to name a few, all of which make use of mobile data collection methods. Mobile data collection can be utilized as an online data collection method as well as during off-site, face-to-face interviews, for one-on-one data collection with an interviewer.
The instantaneous feedback feature of mobile data collection combined with the ability to personalize the experience with interactive features make it comparable to using the face-to-face survey method, with the cost benefit factor of the online data collection method. Mobile data collection may never fully replace face-to-face interviews, but it can and does maximize the productivity of those involved in conducting research.
Here is a direct quote from Survey Magazine's article, Mobile Research Is Here: get ready to embrace the evolution: "What can marketers do then, to ensure they are prepared for the emergence of consumer-driven, consumer-initiated technologies? Companies should certainly be thinking about the measures they take to ensure that people are talking about their products, and expressing their opinions about their brand. And they need to ensure they are able to reach their target audiences, day or night, through whichever medium their fans deem most convenient at the time; be it a smartphone, tablet, PC or other connected device."