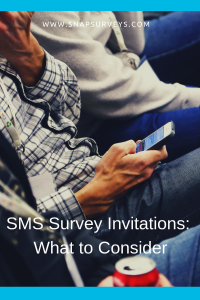 Hundreds of emails are sent and received every day, which means there's a good chance that your email survey invitations get lost in cluttered inboxes. SMS survey invitations can be a better way of reaching your audience anywhere, at any time, and catching their attention immediately.
Research has found that 90% of SMS messages will be read within three minutes of being received, and 98% are read by the end of the day. For email, the average open rate is 24.88%. Delivering a survey invitation by SMS could help to increase response rates and engagement with the survey, if it's done in the right way.
SMS survey invitations: What to consider
Shorter messages
Survey invitations sent by SMS will need to be shorter and more concise. Compared with an email invitation, you won't be able to share as much detail about the survey, or persuade recipients to complete it.
SMS invitations might work best when recipients are expecting to complete a survey; if you're asking for feedback on a product or service they've used recently, or if you're inviting respondents that you have frequent contact with.  Keeping your audience in mind, you will need to make it clear who's sending the message, be straight to the point, and have a clear call to action.
Mobile friendly surveys
Most SMS messages will be received and read on a mobile phone, so the survey will need to be optimized for mobile. Keep the survey short and simple; your respondents are likely to be on the go, with a shorter attention span than if they were sat down at a desk opening an email invitation.
Timing
While one of the advantages of an SMS survey invitation is that it reaches respondents immediately, it also means that you need to really consider the timing of your invitation. If an SMS invitation is received at an inconvenient, time then it's likely to be forgotten about.
Think about your audience and test out when you get the best response rates. If you're targeting office workers then lunchtimes or the end of the day might be when they check their phones. On the other hand, sending an SMS survey invitation later in the evening could be considered intrusive.
SMS survey invitation vs email survey invitation
The higher open rates of SMS messages means that sending an invitation by text could increase survey response rates, and help you to gather more data with better insights. However, the best invitation method is very dependent on the survey itself; the subject, purpose, audience, complexity and length. SMS survey invitations will be more beneficial for surveys that respondents are expecting, that are quick and simple to complete on a phone, and can be explained in a concise, clear call to action.
When you are asking respondents to complete a more complicated or in depth survey, an email invitation will give you more scope to explain its purpose and persuade them to complete it.
Using Snap Survey Software, you can create survey invitations and reminders to be sent out as SMS messages. Learn how to set up and send SMS survey invitations in this worksheet: