Businesses of all sizes can benefit from survey software to create engaging surveys and manage feedback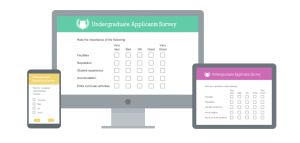 Survey Software is an excellent tool for small- and medium-sized businesses (SMBs) to gain valuable insights through well-planned survey research projects. Larger businesses tend to have the resources needed to undertake the entire survey process. Many small businesses, however, have limited resources and may deviate from survey research simply because of the time it takes to design surveys, administer, collect feedback, analyze data, and create reports. To small businesses, it can seem like a daunting process. Using online survey software that has built-in survey question libraries or templates for survey design, and easy-to use feedback management functionality can help small businesses reduce survey development time, and speed-up administration and data collection. Additionally, advanced online survey software systems have built-in data analysis & reporting functionality – for quick & easy analysis and reporting options.
Benefits of Online Survey Software
Reduced administration costs: Paper-based surveys can be costly, time consuming, and labor-intensive. Paper surveys can involve high costs for printing, distribution, and data collection; time consuming administration and data collection; and labor-intensive data entry of responses. Online surveys can minimize survey design and administration time as well as eliminate high distribution, data collection, and data entry costs. Small businesses can use online survey software to quickly and easily create and distribute online surveys via email, on a website, or through popular social media networks such as Facebook, Twitter, LinkedIn, or Google+, and easily manage all feedback.
Online feedback management: Advanced online survey software systems offer online feedback management platforms to automatically collect survey responses. Having data stored online in a secure environment means small businesses can access and manage their survey responses anytime and not worry about losing their valuable survey data.
Increased response rates: It's easy to manage surveys through online survey software, which makes administration and data collection a breeze. Small businesses can simply create and send personalized survey email invitations and link to respondent databases for easy distribution. Personalized invitations, automated invitations, and reminder messages can all help to increase response rates.
Advanced analysis & reporting: Online survey software systems offer real-time analysis results so you can closely monitor your results in real-time. Small businesses can view results for individual questions or view results as tables or charts. Powerful analysis tools enable you to examine and thoroughly explore your data, then present results clearly and effectively. Utilize advanced analysis features such as derived variables, filters, group variables, scores, net promoter scores, and more with advanced analysis capabilities.
You may also enjoy this related blog post: Survey Software Review for Small Business Marketing