How do you pick a good email subject line for your survey email invitations that grabs your target populations' attention and convinces them to open and complete your online survey? Whether you are asking your audience to complete a customer satisfaction survey, rate a product or service, or take part in a health research survey, a well planned email subject line will have a big impact on your response rates. If you don't create a compelling subject line, your sample will not open your email invitation, and you will jeopardize your survey response rates. Even if you have high-quality, meaningful content in your email, how you word your subject line can make or break your efforts. 
As with formulating survey questions, it is important to keep your subject lines free of jargon. Be sure to create subject lines that are in-line with your target audience. Don't use abbreviations, acronyms, kitschy words, or market/industry specific terms. Using terms in your subject line that are more targeted to your respondents' interests will likely have a positive effect on your survey response rates. 
Here are some quick resources you can use to pick a good email subject line.  
Search Engines
Search Engines such as Google, Yahoo!, or Bing can provide useful insight into what terms and phrases researchers are using. Try this – with the Google browser window open, enter one of your industry keyword or keyword phrases into the Google search box. On the left-hand side of the screen, click "Related searches." Google will display a list of search terms that have a direct relation to your search term, which are terms that are popular and searched frequently. Employing a tool such as Google Trends can also help you compare terms and help you narrow down exactly how often each term is utilized. Take the following example, for instance. We have compared the search terms customer survey vs. customer satisfaction survey. As you can see from the trend results, customer survey is a more popular search term than customer satisfaction survey. This would be a good indication that a broad audience may find greater value in reading about various types of customer surveys, not just customer satisfaction surveys. 
customer survey vs.
customer satisfaction survey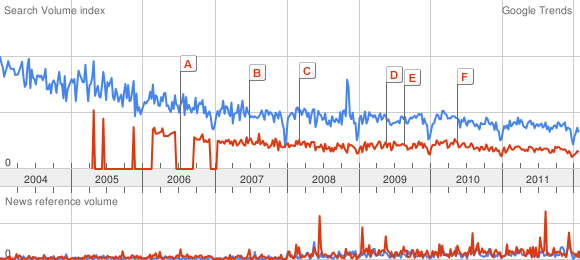 Social Networking Websites
Social Networking websites such as Facebook, Twitter, LinkedIn, or Google+ are great resources for viewing actual conversations and gathering popular keyword terms. Look for keyword terms and phrases that are commonly used. Many conversations start with a question or an appealing title. 
Traditional Media
Print advertisements (newspaper, magazine), Radio ads, Television ads, and Billboards are all forms of Traditional Media that have been reaching consumers for years. These common forms of marketing still occupy an important place in the marketing mix, and are an excellent resource for creating subject lines. Some examples of attention-grabbing subject lines include: 10 Easy Ways to Redecorate Your Home; Do You Know How to Create Quick Content?; 5 Things Your Doctor Didn't Tell You About Cholesterol; The Truth About Sleep & Productivity 
As with any survey email campaign, you will want to test your subject lines. Continually test subject lines to determine trends and styles that appear to work for your audience. Not every subject line will work for your campaign. Pretest your campaign with a smaller sample, if you can, to see what tactics get your audience to open your email invitation. Add a day to your email campaign schedule to give yourself enough time to try out different email subject lines.