Make better decisions and keep your patient health data safe and secure during online healthcare questionnaires, health evaluations, and medical research surveys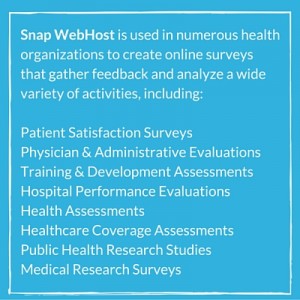 Healthcare questionnaires, health evaluations, and medical research surveys are all types of health-related online surveys that are frequently administered to individual patients. They include sensitive physical health information, and are used to help identify and evaluate risk factors for certain diseases and conditions; and to collect feedback to improve business operations and to enhance the patient experience. The main goal of any health-related survey is to provide recommendations to achieve better health and to create a healthier lifestyle.
Survey Software that is built with privacy and data security in mind
Patient privacy remains a big issue when creating online surveys that collect data relating to the HIPAA law, used for health plans, by healthcare providers, and for professional medical research studies. You need a survey software program that can create and administer secure questionnaires, and store encrypted data in a secure environment, and generate specialized reports. What better secure environment than your own?
Snap WebHost is a complete online survey management system. When installed on your own secure network, this system provides health professionals complete control of, and secure access to online surveys for administration and management of private health-related data with the ability to create advanced reports.
Having complete control over survey data on your own network enables your organization to protect sensitive patient information as well as monitor controls to prevent fraud and breaches under your own internal HIPAA compliance rules and regulations. You have complete control over sensitive patient data, giving your organization the ability to manage data according to HIPAA's specialized and stringent requirements.