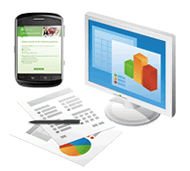 Your survey research project may require a combination of various data collection methods. A mixed methodology approach to data collection can assist in maximizing your survey response rate or to communicate with hard-to-reach respondents. 
There are many methods of data collection. Depending on your research requirements, you can provide your respondents with options and accessibility through a combination of the following modes of survey research: 
Advanced survey software providers can support multi-mode surveys, facilitating the collection of survey response data from multiple data collection sources, and merge survey data into a single dataset ready for complete analysis.
View our worksheet: Create multiple editions of your questionnaire
In this worksheet, you will learn how to create an online survey from an existing paper survey by creating a new edition. You can use the same process to make any number of editions to a single survey. This allows you to publish the same survey to paper, mobile, kiosk, or online, and analyze all the survey data in a single data file. 
Snap Survey's survey software provides a cost effective way to manage multi-mode surveys. Surveys for all modes of data collection are easy to set-up through our design interface and results from all data collection methods can be seamlessly combined and analyzed all in one complete survey software solution.