Learn how to maximize response rates with your online survey email invitations in our new worksheet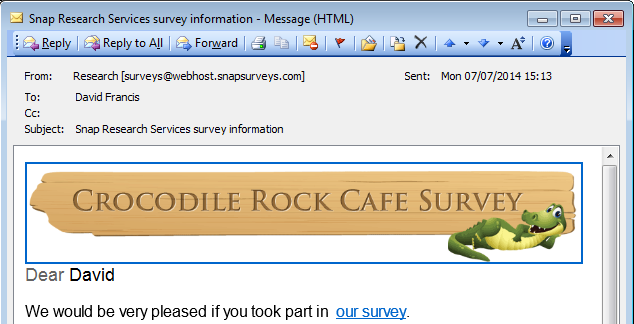 It's essential to make email invites and reminders as attractive as possible in order to help maximize your survey response rates. Snap WebHost, Snap Surveys' online survey management system, allows users to send email invitations and reminders to a list of respondents.
This month's worksheet shows users how to incorporate images and pictures into Snap WebHost email invites and reminders.
Background
When a  Snap Survey Software user uploads a published survey to Snap WebHost, the survey itself is uploaded, as well as any images used in the questionnaire and the information from the linked database that Snap WebHost needs to send out the emails and reminders. If you want to use an image in the emails that you did not use in your survey, you can do this by adding it to the published zip file before you upload it. If the image is already on the internet, you can simply insert a link to the image. And, since Snap WebHost can send out HTML emails, you can insert links, styles, and HTML code directly into the emails. There is a great deal of versatility when it comes to email invitations and reminders. If you are experienced in writing HTML, you can edit the email directly in HTML.
Summary of worksheet steps
Step 1: Adding an image to the published zip file
Step 2: Inserting the image in the email
Step 3: Adding a link to your image
Step 4: Test that the email is as you expect