What makes a successful business?  A successful business is one that listens and acts upon the needs of its stakeholders – customers, clients, employees, investors, suppliers, vendors, and even the community. Listening and acting upon the needs of  your stakeholders will affect your bottom line. They are the ones purchasing from your business. The businesses that take the time to listen to, identify with, and respond to stakeholder needs are positioning themselves for success.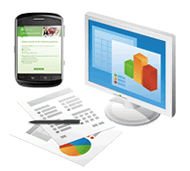 An excellent way to ensure your business stays relevant and up-to-date with stakeholder needs is by directly asking stakeholders how best to meet those needs. Survey Software can help.  Businesses of all sizes and types can benefit from an advanced survey software tool that can assist with survey development – a total tool from survey design to data analysis.
Survey software
is a total feedback management tool that your business can use to easily gather and analyze feedback directly from stakeholders.
Businesses should not limit themselves by conducting just a few surveys. There are several types of business surveys that can be implemented into every area of the business. Whether you manufacture products or provide services, your business needs to collect frequent feedback from all stakeholders to ensure it maintains an edge over the competition. What types of surveys can businesses use to gather meaningful feedback from stakeholders?
Customer Satisfaction Surveys
Client Feedback Surveys
Customer Loyalty Surveys
Employee Satisfaction Surveys
Employee Engagement Surveys
Product Development Surveys
Product Marketing Surveys
Market Research Surveys
Advertising Effectiveness Surveys
Technology Surveys
Shareholder Surveys
Facilities Management Surveys
Businesses aren't limited to just creating surveys with survey software, however. Advanced survey software is also an excellent tool to create forms and assessments for areas such as patient assessments, student and course assessments, performance appraisals, evaluations, application forms, and information requests. Any area of the business where you need to gather feedback, survey software can help.
Whether you produce products or offer services, your business needs to receive regular feedback from stakeholders to ensure it maintains an advantage over the competition. With each year come new challenges. Businesses must focus on effectively and efficiently managing all areas of the company, provide high-quality services, manufacture new and innovative products, maintain relationships with suppliers and vendors, and retain an efficient workforce – all of which have a direct impact on all stakeholders. Feedback is valuable information about how the business is meeting the needs of its stakeholders and your bottom line success depends on their feedback. Gather that feedback directly from the source with survey software.