Join us on Wednesday, August 14th for a FREE webinar on the topic of: Enhanced Analysis in Snap Survey Software, Part 2
This webinar, Enhanced Analysis in Snap Survey Software, Part 2, is part of our Snap Summer Camp 2013 series, a series of free webinars taking place between June to September, 2013.
For your convenience, we will be running this webinar twice.
When: Wednesday, August 14th
Session 1: UK: 15:00 BST | US: 10:00 AM EST / 9:00 AM CDT
     Presenter: Marc Ellison, UK Snap Training Consultant
Session 2: US: 1:00 PM EDT / 12:00 PM CDT | UK: 18:00 BST
     Presenter: Jay Arbelo, US Snap Training Consultant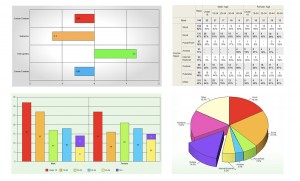 In this webinar, a Snap Training Consultant will show how reporting features in Snap Survey Software will enable you to create and distribute reports effectively and  efficiently.
The webinar will take you through running a variety of different types of reports, how to set them up using instructions, and how to edit and export them in a number of different ways.
How a report might be used to produce a summary of your analysis, using tables, charts, or lists.
Produce a more detailed report using different types of  'report instructions.'
Outputting results in different formats
This webinar will give you a good idea of how to start creating smarter reports and how your organization can benefit from better reporting.
>> View the complete list of available webinars
>> Learn more and register for Snap Summer Camp 2013
Follow Snap Summer Camp on Twitter using #snapcamp13.