View free interactive tutorials in topics ranging from online survey management, paper survey scanning, and more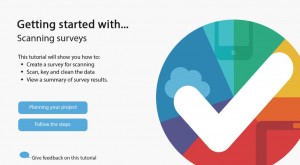 Snap Surveys free interactive tutorials are the perfect way to learn about survey topics at your own pace and in your own time. By simulating the experience of using Snap Survey Software, you can follow the steps and learn as you go – with help and guidance to get you up and running quickly.
Available interactive tutorials include: 
Getting Started with Snap Webhost
Create an online survey or mobile survey with a variety of question styles, including question routing. Upload the survey to Snap WebHost, collect replies, and view live results online 24/7.
Getting Started with Paper Surveys with Scanning
Create a paper survey for scanned data entry, key and clean the data, and view a summary of survey results. You'll also get hints and tips to help your scanning project run smoothly.
Getting Started with Snap Mobile Anywhere
Follow the entire process for creating mobile surveys for Snap Mobile Anywhere – from creating your first survey to collecting replies using the Snap Mobile Anywhere app.
Invitations and Reminders in Snap WebHost
View how easy it is to send automated invitations and reminders for your Snap WebHost online survey or mobile survey, including how to seamlessly populate your survey and email messages with database information.