Want to add a simple one-question survey to your website? 
SnapShot Poll is a simple solution to the demand for a one question online poll with analysis already built in. And, the best part, it's FREE to everyone! You don't even need to be a user or subscriber to Snap Survey Software to make use of it. This is a cost effective solution for local community organizations, charities, non-profit organizations, students, etc. to create simple and quick one-question surveys.
SnapShot Poll can be used in a couple of ways. First, it can be used as a way to add zing to your website with a quick topical poll that provides some interaction with your website visitors. Second, it can be used as a research tool to examine the effectiveness of your website.
If you're planning to use a survey poll to add zing to your website, your only task is to decide on the question you plan to ask – should it be a topical / newsworthy question, or should it be a question that is associated to your website? 
If you're planning to use a survey poll as a research tool, you don't necessarily need to prepare all the questions you plan to ask before you start your research. You can decide where/when the first question should appear, monitor the responses, and then prepare the next question in terms of location and content. 
Envision that you are a company selling sporting goods and you want to uncover how easy it is to place an order and pay for the goods from your website. The homepage of your website is unlikely to be the right location for the survey poll. The homepage is where the majority of guests will visit unless they have visited your website in the past or they have been directed there from another link.  New visitors to your website don't know what's involved in ordering sporting goods from your website. This survey poll would be better positioned on the webpage that is displayed once an order has been placed and the payment has been received. Or, the survey poll could be located on the webpage thanking the customer for their purchase. Here is an example of a survey poll: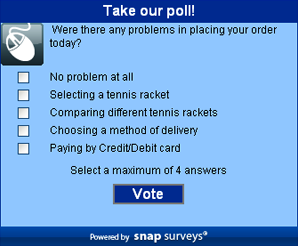 Once you start receiving replies, you can then decide what your next question should be and where it should be located on your website. It may be sensible to leave the first survey poll active until you receive about 200-300 responses. Here is an example of the survey poll results: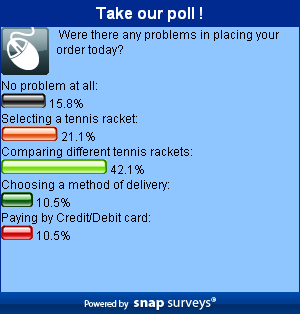 If your customers are experiencing difficulty in the ordering process, your next step could be to develop a question customized to that specific topic. For instance, if the results show that customers are experiencing difficulty in the payment process, it would be best to customize a question to that topic and place the survey poll on the webpage immediately following the completion of the payment process. 
Click here to learn how to create a one-question survey poll in 5 easy steps.
Click here to get started creating your own free survey polls today!