CASE STUDY: Turning the Curve: How Snap Survey Software Helps Conwy County Borough Council Measure and Share Vital Outcomes Information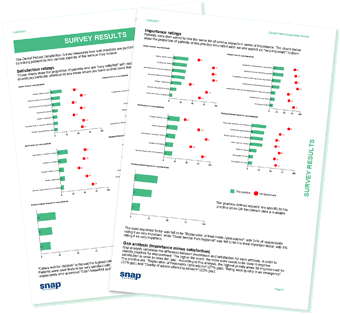 Alan Thompson is Project Officer at Conwy County Borough Council in North Wales. He's been an enthusiastic user and evangelist for Snap Survey Software in the council for over 10 years.
Like many of our customers, Alan has been keen to exploit the full potential of Snap's survey software solutions, in particular reporting and analysis.
"The intuitive simplicity of using Snap for analysis really opens up the data and helps us turn ordinary data into business intelligence," Alan explains. 
Better data = greater insight
One of the key projects Alan's involved with is the Supporting People (SP) Programme, which is the government programme for funding, planning and monitoring housing related support services. Local authorities administer the grant, commissioning services from a huge range of service providers across the public and private sector.
Welsh Government (WG) devised a framework for reporting the Outcomes that people were experiencing as a result of their support through SP. All Welsh councils are required to report against the framework, and WG supplied an excel spreadsheet as a suggested tool for collecting the data.
Alan and his colleagues initially took on the challenge of putting a data gathering and reporting structure in place for his own council, Conwy County Borough Council.
The challenge was twofold:
To create a data collection system that was simple for service providers to use, which resulted in clean, consistent data, and to minimize unnecessary administration time.
To develop meaningful analysis as part of a holistic service review process, to inform the overall commissioning strategy. This is about identifying what works best with specific niche client groups.
The solution is based around a Snap online survey 'form' which hundreds of housing support providers in North Wales now complete.
Through a regional networking group, the Snap Survey Software based system was demonstrated to the other councils in North Wales, highlighting the benefits of improving the quality of data capture, time saving and flexible analytics. The system was so well received by the other 5 North Wales authorities, that the Conwy system has now been expanded to collect data on behalf of all 6 councils in North Wales.   The North Wales Regional Development Coordinator has since taken a central role in administering the project.
Snap's sophisticated reporting and analysis now creates 400 individual project reports every quarter, with just a few clicks. An individual provider might have 25 projects and he's able to produce separate reports in Snap Survey Software for each one, in PDF format. Overview reports are also produced for the Regional Commissioning Group.
Alan has been keen to exploit online surveys to increase efficiency and improve reporting for other areas within the council. For example, consultation papers for statutory Looked After Children (LAC) Reviews are now offered as an online option as well as the more traditional paper booklets. As a result, uptake has increased and helped more young people to engage with their LAC care plans.
Alan is now able to produce quarterly reports based on three year's worth of data which helps to identify significant trends, for example around the quality of engagement with staff.  Reports are shared with social work practitioners on a quarterly basis.
Turning the curve
As part of a wider performance management function, Alan uses Results Based Accountability (RBA), which focuses on key metrics that define whether desired outcomes are being achieved.  Naturally, this includes monitoring many statutory performance indicators, but increasingly, there is a desire to include more user generated data that represents the "voice of the customer". This approach depends on tracking performance over time and working with stakeholders to develop actions that will "turn the curve" in the required direction.
"The ability that Snap Survey Software gives me to analyze, track changes over time, and share information in an engaging, visual way with the people that I need to influence, is simply magical", says Alan.
Snap's new Smart Reporting capability is set to make Alan's job easier as it will help further automate the production of regular reports for the many different types of stakeholder.
Where next? 
Alan feels there is still much work to be done to develop a shared, common framework for population level outcomes, as part of the response to the Social Services and Wellbeing (Wales) Bill.
It's good to know that customers like Alan are using Snap survey solutions not only to measure outcomes but to dig deeper into the data to gain insights to improve service delivery.
Contact Alan Thompson on Twitter: @AlanThompson71