Step 2: Think about your target audience
How, when, and to whom is the questionnaire going to be delivered?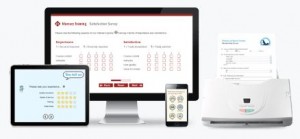 Where are participants likely to be viewing your questionnaire? Will they be on the move, at home, in the office? This should dictate the length of the questionnaire and the type of questions you create.
19% of online surveys are now competed on a Smartphone, tablet, or other mobile device.* The attention span of a participant on a Smartphone is generally going to be shorter than someone using a PC. Different question styles suit different devices. Grid questions, for example, are better on larger screen-sizes than on a Smartphone.
Online surveys are understandably easy to manage and reporting is instant, but keep in mind the demographic profile of the people you are researching. Face-to-face interviewing with iPadsand tablets is also increasingly popular. And in some circumstances paper questionnaires may still get a more informed response from participants. Your audience will dictate the preferred completion mode. Choose a survey software system that accommodates multiple modes, including online, mobile, paper, and kiosk surveys.
Learn more about designing your own surveys.
Note: The quotes used are taken from customer feedback research we commissioned last year amongst consumers and marketing professionals. 
*greenbook.org