Share real-time survey results online with clients and colleagues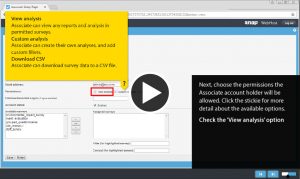 Give clients, colleagues, and key stakeholders 24/7 access to real-time and personalized survey results. Set permissions to view specific analysis and reports, and create new analysis on the fly.
In this short tutorial you'll learn how to:
Create an Analysis Associate account
Specify which surveys are available
Configure reports to the unique perspective of the reader
You can find out more about sharing real-time results in this new interactive tutorial.