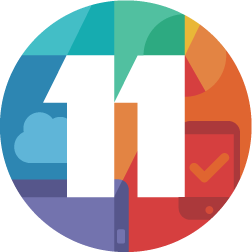 This powerful new version of Snap Survey Software includes significant developments in data security, reporting, and a complete overhaul of scanning technology for paper surveys.
We've also added a range of new question styles and templates – all designed to help you engage survey participants and increase response rates.
Here are some of the key features and developments introduced for Snap 11, available in the current build (11.11) released 11th Feb 2015.
Quickly create engaging surveys ready for any device
1 in 5 participants are accessing surveys using mobile phones, so your survey needs to be fully accessible and easy to complete on any device. With Snap 11 we introduced new quick start templates, optimised for any device, and surveys that adapt automatically to the screen size on which they are viewed.
New question styles, including semantic scale and grid, clickable images and sliders
Option for participants to upload documents or images as a survey response
Snap Mobile Anywhere interviewers can answer questions with a photo taken on their device
Significant improvements in scanned recognition of handwritten replies
Enhanced security and redesigned user interface for Snap WebHost
Our software and systems are certified to meet the requirements of ISO27001 so you can be sure your data is safe with us. We've also developed a version of Snap WebHost for you to run on your own servers – it's cost effective and gives you complete control.
Other developments for Snap webhost include:
Generate automatic links for Facebook, Twitter and LinkedIn users.

The new group questionnaire feature means you can repeat the same questionnaire, but with a different subject each time – perfect for course evaluations, clinical trials, product testing or 360 degree feedback.
New analysis tools, pre-built reports and dynamic Smart Reports
The biggest steps forward in Snap 11 are in analysis and reporting. Every new survey now comes with two prebuilt reports, with the option to apply filters to isolate replies from different groups. You can also create your own dynamic and flexible smart reports and produce multiple, complex and personalised report variations at the click of a mouse.
Analysis and reports are now available online for Snap Mobile Anywhere surveys on iPhone, and Android smartphones, on iPad, Android, and Windows tablets, and on Windows laptops and PCs.
View instant, prebuilt Summary Reports that deliver key insights to your organisation or clients
Build your own Smart Reports – deliverable online and dynamically tailored for different audiences – e.g. for different branches, sites, or other groups.
Capture geo-location co-ordinatesfor online and Snap Mobile Anywhere surveys
Analyse free text replies with Word clouds
New descriptive statistics: Average Absolute Deviation to standard stats, Sample Standard deviation (N-1) and Sample Variance